Young Americans' Views on the 2024 Presidential Election
October 13, 2023 by Scot Wilson
---
Over the last two weeks, we have explored results from American University's Reimagining the American Dream Survey, conducted in partnership with Close Up, the Generation Lab, and the Millennial Action Project. This third and final post will examine the respondents' views and ideas surrounding the 2024 election.
As a reminder, American University's Sine Institute survey explored "what the American Dream actually means for young Americans, who are trying to sort through the churning dynamics shaping their lives, including: spiraling technological innovation, major economic transitions, changing attitudes about social justice, and what constitutes a good, or 'successful,' life after a devastating global pandemic with profound impacts on their physical and mental health, the extent of which is still unknown." The survey explored a broad range of issues including the upcoming election.
The first major finding is that young Americans do not yet feel fully engaged or invested in the 2024 presidential election, even though a majority agree that the outcome of the election will have a major impact on their lives. Young people lean towards supporting President Biden, but almost a third lean towards the Republican party and a quarter of respondents are undecided.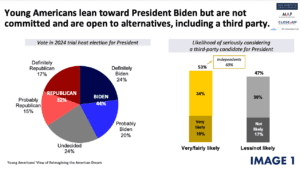 When young Americans were asked to list the top 3 issues that will drive their decisions in 2024, four out of the top five issues they listed were economic issues. Healthcare (25%), the economy and cost of living (24%), affordable housing (24%), and issues related to the workforce (21%) were all listed as a top 3 issue by at least 20 percent of respondents, indicating the extent to which young Americans are thinking about the economy. Three other issues—reproductive rights (23%), the environment and climate change (21%), and gun violence (20%)—were also listed as top 3 issues by at least 20 percent of respondents.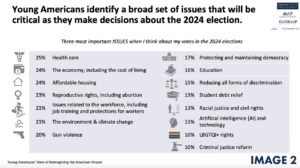 Of course, the 2024 election is still over a year away, so there is plenty of time for young Americans—and all voters—to become more engaged, to reassess their priorities, and to reconsider their vote. This is only a snapshot, but it is a snapshot of young Americans' views, and young Americans tend to be underrepresented in the political discourse. That makes this snapshot important and useful for those who care about engaging young people in U.S. democracy.
Discussion Questions
Have you begun to pay attention to the 2024 election? What are your thoughts and observations?
How do your political preferences align with the views of young Americans in Image 1? Are you leaning toward the Democratic or Republican candidate, an independent candidate, or undecided?
How does the list of priorities in Image 2 compare to your own list? Is there an issue that you would rank more highly than healthcare, affordable housing, or the economy?
Are there any issues that you would add to the list of priorities that young Americans identified? (see image 2)
As always, we encourage you to join the discussion with your comments or questions below.
Sources