What We Can Learn From the 2019 Elections
November 12, 2019 by Sarah Strum
---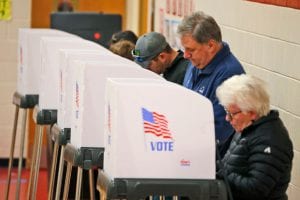 On Tuesday, November 5, 2019, voters in eight states went to the polls to vote in local and statewide elections. Competitive gubernatorial and state legislative races were held in Kentucky, Mississippi, and Virginia.1 These were the last elections before the 2020 census, which could result in the redrawing of political boundaries in each state. Furthermore, the results of these elections could be potential indicators of voter behavior and turnout in the 2020 election.
What Was at Stake in These Races?
In Kentucky, Republican Governor Matt Bevin, a strong supporter of President Trump and conservative policies, faced a strong challenge from state Attorney General Andy Beshear, a Democrat. Despite the fact that Kentucky is considered to be a strong Republican state (President Trump won the state by over 30 percentage points in 2016, and it's the home of Senate Majority Leader Mitch McConnell), Democrats have found success in gubernatorial races there.2 The unpopularity of Governor Bevin allowed the race to become highly competitive, giving Attorney General Beshear a jump in the polls.3 Many Democrats were hoping that seeing one of their own win in a state like Kentucky, which overwhelmingly votes Republican in national elections, would indicate the state's voting behavior for 2020.
Ultimately, the gubernatorial race in Kentucky has been ruled too close to call, and Governor Bevin has formally asked for a recanvassing of the election. The recanvassing is currently scheduled for November 14.4 All other elections in the state were won by Republicans.5
In Virginia, which has become more of a purple state in recent years, the scandals among the top three officials (all Democrats) that unfolded earlier in 2019 had Republicans hoping that they would gain momentum in this year's election, and allow them to hold onto control of the state Senate and House of Delegates.6 Despite the scandals, Democrats seized full control of the state legislature, marking the first time that Democrats have controlled the entire state government in over two decades.7
Mississippi's gubernatorial election, although more competitive than elections in years past, saw Republican Lieutenant Governor Tate Reeves defeat Attorney General Jim Hood, a Democrat. The heavy turnout from both parties shows how engaged voters are in the political scene, both locally and in anticipation of the 2020 election.8 However, even with this heightened sense of engagement from both sides, Democrats did not claim any statewide office or function of government in Mississippi last Tuesday.9
The 2019 elections reflected a higher sense of political engagement across both parties, but the effects of voter turnout and engagement moving towards the 2020 election remain unknown. In the coming weeks, strategists from both major political parties will attempt to find patterns in last week's elections as they look ahead to the presidential race.
Discussion Questions:
Do any of these election results surprise you? Why or why not?
What do you think these results might tell us about voter behavior in the upcoming 2020 election?
Do you think elections before a census year are more important? Why or why not?
How might voter turnout in local elections be different than turnout in national elections?
Do you believe these elections received more national attention than usual? If so, why do you think that might be?
How closely linked do you think local and state elections are to national elections?
Sources
[6] Ibid.