What Is Happening in Sudan?
May 25, 2023 by Katie Chandler
---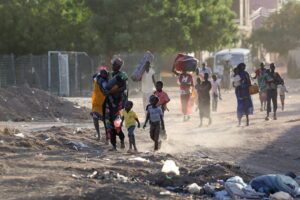 On April 15, fighting broke out in Sudan between the Sudan Armed Forces (SAF), the country's national army, and the Rapid Support Forces (RSF), a paramilitary group. The RSF is the largest paramilitary group in Africa, created in 2013 out of the Janjaweed militias that have been accused of war crimes and genocide in Darfur, a region in western Sudan, in the early 2000s.1 The conflict has displaced almost 1.1 million people, both inside Sudan and into neighboring countries. It is estimated that between 700 and 1,000 people have been killed and at least 5,287 have been injured.2 Experts say that over half of the population is in need of humanitarian aid after widespread power outages left civilians without access to water and food.3
Background of the Sudan Conflict
Sudan is the third largest country in Africa, located directly south of Egypt. It was a British colony until 1956 and has a population of 49 million people. Sudan is strategically situated on the Red Sea, contains vast mineral resources, and is a major agricultural exporter to Africa and the Middle East.4 There are over 500 ethnic groups in Sudan, but approximately 70 percent of people identify as Sudanese Arab.5 The country has a long history of political unrest, military takeovers, and violence. The International Criminal Court issued a warrant for former President Omar al-Bashir, accusing him of crimes against humanity and genocide.6
The Main Actors in the Sudan Conflict
At the center of the conflict in Sudan are two men: General Abdel Fattah Abdelrahman al-Burhan, leader of the SAF, and General Mohamed Hamdan Dagalo, who leads the RSF and frequently goes by the name Hemedti. Prior to this conflict, the two men took advantage of unrest caused by pro-democracy protests in 2019 to overthrow President Bashir, whom they had previously supported and worked under. A civilian-military coalition was created to help move Sudan towards democracy, but two years later, Burhan and Hemedti worked together again to lead a military coup to take control of the country. They claimed the takeover was to maintain stability from infighting in the civilian-led government. International observers say that since 2021, corruption has soared and the Sudanese economy is struggling.7
The Reasons for the Violence in Sudan
Burhan has been the de facto leader of Sudan since the coup in 2021, and Hemedti's RSF forces, with anywhere from 70,000 to 150,000 members, were supporting—but are still separate from—the army. As Hemedti's influence increased and he attempted to recruit more members to the RSF, tensions between the two men began to rise.8
Weeks before fighting broke out, the pro-democracy movement and military leaders were scheduled to sign an agreement to create a civilian-run, democratic government. It was postponed twice before the fighting broke out because of disagreement between the two generals over how the RSF would be incorporated into the Sudanese military. The agreement would have been an important step in creating a democratic government chosen by the Sudanese people.9
Conditions on the Ground in Sudan
It is not clear who shot first, but experts agree both sides were prepared for fighting. The conflict has largely centered on the Sudanese capital of Khartoum and Darfur. Residential areas, including schools, hospitals, markets, and the airport, have been targeted, bombed, and emptied by soldiers for use as temporary bases. There are reports of intimidation, looting, and sexual violence against women and girls.10 Volker Perthes, the United Nations' special representative to Sudan, has stated that the fighting could split the country along ethnic lines, which would expand the conflict further.11
The U.S. Response to the Sudan Conflict
The United States has used a number of diplomatic actions to try to end the conflict in Sudan.
President Joe Biden issued an executive order allowing the U.S. government to impose sanctions "on individuals responsible for threatening the peace, security, and stability of Sudan; undermining Sudan's democratic transition; using violence against civilians; or committing serious human rights abuses."12 Some experts in the region are pessimistic such sanctions will convince the two generals to end the conflict; Sudan was under similar sanctions from 1989 to 2017.13
The United States Agency for International Development (USAID) has deployed a Disaster Assistance Response Team to coordinate humanitarian aid in the region.14
Secretary of State Antony Blinken has been involved in negotiations for a ceasefire.15
The International Response to the Sudan Conflict
The United Nations Human Rights Council had an emergency meeting on May 11 and passed a resolution calling for an end to hostilities, a transition to a civilian-led government, and human rights monitoring.16 The Arab Union, the African Union, and the Intergovernmental Authority on Development in Eastern Africa (IGAD) have also called on both sides to cease fighting.17
There are competing interests in the region: stability or democracy. Neither Burhan nor Hemedti want a democratic Sudan, and many governments support a transfer of power to one general or the other to maintain stability and gain access to Sudan's resources, rather than prioritizing democracy.18
What About a Ceasefire?
A ceasefire, brokered by the United States and Saudi Arabia and agreed to by the SAF and RSF, began the evening of May 22. The aim was to stop fighting so humanitarian aid could reach civilians trapped by the violence. The negotiations did not include civilian leaders and the ceasefire does not address future governance.19 Six previous ceasefires have failed, but Secretary Blinken says this is the first with a "monitoring mechanism," without elaborating what that was. Reports were mixed this week as to whether the ceasefire has been successful.20
Discussion Questions
What responsibility does the international community have to protect civilians in Sudan?
What do you think the U.S. role should be in the crisis in Sudan?
How to Get Involved
Other Resources
Colonial Origins of the Conflict in Sudan
As always, we encourage you to join the discussion with your comments or questions below.
Sources
[1] Clooney, George, and John Prendergast. "How the International Community Failed Sudan." Time. 28 Apr. 2023. Web. 22 May 2023.
[2] Reuters. "Sudan's Army and Paramilitary RSF Sign Seven-Day Ceasefire." 20 May 2023. Web. 22 May 2023.
[3] United Nations. "Sudan Crisis: UN Launches Record Country Appeal for 18 Million in Need." Web. 22 May 2023.
[4] International Trade Administration. "Country Commercial Guide: Sudan." United States Department of Commerce. 30 Jul. 2022. Web. 22 May 2023.
[5] Central Intelligence Agency. "Country Summary: Sudan." The World Fact Book. 22 Feb. 2023. Web. 22 May 2023.
[6] BBC News. "Sudan Profile—Timeline." 10 Sep. 2019. Web. 23 May 2023.
[7] Gavin, Michelle. "Sudan's Coup, One Year Later." Council on Foreign Relations. 24 Oct. 2022. Web. 19 May 2023.
[8] New York Times. "Chaos in Sudan: Who Is Battling for Power, and Why It Hasn't Stopped." 11 May 2023. Web. 22 May 2023.
[9] Jeffery, Jack, and Samy Magdy. "Deal to Restore Democratic Transition in Sudan Delayed Again." Associated Press. 7 Apr. 2023. Web. 22 May 2023.
[10] Lederer, Edith. "UN Urges Sudan's Warring Parties to Honor 7-Day Ceasefire That Began Monday Night." Washington Post. 22 May 2023. Web. 22 May 2023.
[11] Abdel-Razek, Omar, and Aiden Lewis. "UN Envoy to Sudan Warns of 'Ethnicisation' of Conflict, Impact on Region." Reuters. 22 May 2023. Web. 23 May 2023.
[12] The White House. "Statement from President Joe Biden on the Conflict in Sudan." Press Release. 4 May 2023. Web. 22 May 2023.
[13] De Waal, Alex. "Sudan Crisis: Mediators Over a Barrel In Mission to End Fighting." BBC News. 8 May 2023. Web. 22 May 2023.
[14] Power, Samantha. "USAID to Deploy Disaster Assistance Response Team for Sudan, Continued Calls for Ceasefire and Humanitarian Access." Press Release. United States Agency for International Development. 23 Apr. 2023. Web. 22 May 2023.
[15] Reuters. "U.S.'s Blinken Speaks With Burhan About Talks to Reach Ceasefire in Sudan." 20 May 2023. Web. 23 May 2023.
[16] United Nations Human Rights Council. "Sudan Violations in Spotlight at UN Human Rights Council." 11 May 2023. Web. 19 May 2023.
[17] Caslin, Oliver, and Mathieu Olivier. "Sudan: From Djibouti to Kenya, Last Chance at Diplomacy." The Africa Report. 21 Apr. 2023. Web. 22 May 2023.
[18] Mackintosh, Eliza, and Jennifer Hansler. "How the West Enabled Sudan's Warring Generals." CNN. 26 Apr. 2023. Web. 22 May 2023. Schewe, Eric. "In Sudan's Civil Conflict, the Arab Cold War Widens." JSTOR Daily. 22 May 2023. Web. 23 May 2023.
[19] Schewe, Eric. "In Sudan's Civil Conflict, the Arab Cold War Widens." JSTOR Daily. 22 May 2023. Web. 23 May 2023.
[20] Nureldin, Mohamed, and Khalid Abdelaziz. "Sudan Ceasefire in Danger As Residents Report Fighting, Warplanes." Reuters. 23 May 2023. Web. 23 May 2023.