The Voting Rights Act Goes to Court, Again
October 6, 2022 by Scot Wilson
---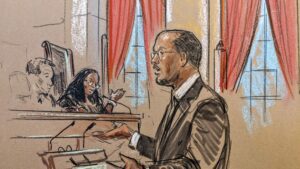 On October 4, the Supreme Court heard oral argument in the case of Merrill v. Milligan. In that case, the Court is considering whether the Voting Rights Act of 1965 should apply to Alabama's recent congressional redistricting. One section of the Voting Rights Act requires that states provide minority voters with "an equal opportunity to participate in the political process."1
Close Up Classroom Resources
Gerrymandering: Should the federal government mandate that states end partisan gerrymandering?
What Are the Details of the Case?
Alabama has a large Black population but that population does not have a significant impact on the election of Alabama's members of the House of Representatives.2 Only one of Alabama's seven districts is set up so that minority voters have the potential to sway the election. According to the National Conference of State Legislatures, Black voters have less opportunity than other Alabamians to elect congressional candidates of their choice.3 As NPR reports, "Black voters are either concentrated in that district so they are a supermajority there or spread out across the remaining six districts so that their voting power is diluted. It's a practice known as packing and cracking."4
A summary of the case's road to the Supreme Court from Axios states:
A three-judge lower court, including two appointees of former President Donald Trump, found in January that Alabama's congressional map violated Section 2 of the Voting Rights Act. "The appropriate remedy is a congressional redistricting plan that includes either an additional majority-Black congressional district, or an additional district in which Black voters otherwise have an opportunity to elect a representative of their choice," the judges said in a 225-page ruling.
The state of Alabama asked the Supreme Court to put the lower court ruling on hold while it appealed, which the justices allowed, the Associated Press reports.5
WATCH: The Supreme Court Hears Oral Argument in Alabama Racial Gerrymandering Case, from NBC News
What Were Alabama's Arguments?
The state of Alabama argues that its districts are legal and that they were drawn in a race-neutral manner.6 During oral argument, the attorney for Alabama argued that there are many possible configurations of the congressional districts, and that computer models did not necessarily produce a map that was more favorable to minority voters. They stated that even the "plaintiffs' [the other side's] own witnesses testified about millions of possible race-neutral plans that, like Alabama's plan, have no more than one majority-minority district. Plaintiffs were able to produce comparator plans with more majority-Black districts only by starting with a 'nonnegotiable' racial target and backfilling with other redistricting criteria after that target had been hit."7
What Were the Plaintiffs' Arguments?
Deuel Ross, senior counsel for the NAACP Legal Defense Fund, argued for the plaintiffs. "There is nothing race-neutral about Alabama's map," he said. "The Black Belt is a historic and extremely poor community of substantial significance. Yet Alabama's map cracks that community and allows [a] white block voting to deny Black voters the opportunity to elect representation responsive to their needs."8
Ross also argued that the plaintiffs were not asking for guarantees that Black voters would be a majority or the major force in any district. Instead, they were asking for a plan that drew Black voters in districts where they are given "at least a fair chance—not even a guaranteed chance—to elect their candidates of choice in a second district."9
WATCH: A Starting Point's Divide & Conquer
What's Next?
While the Supreme Court has already heard the case, it is unlikely that its decision will be handed down before June 2023.
Discussion Questions
What have you learned about redistricting in Alabama, gerrymandering, and the Voting Rights Act?
What other issues relating to elections and voting do you think are important to discuss?
How do you think the Supreme Court should rule in this case? Why?
Do you believe that the U.S. system of campaigns, elections, and voting is fundamentally fair? Why or why not?
As always, we encourage you to join the discussion with your comments or questions below.
Sources