The Great Resignation
January 13, 2022 by Meredith Polm
---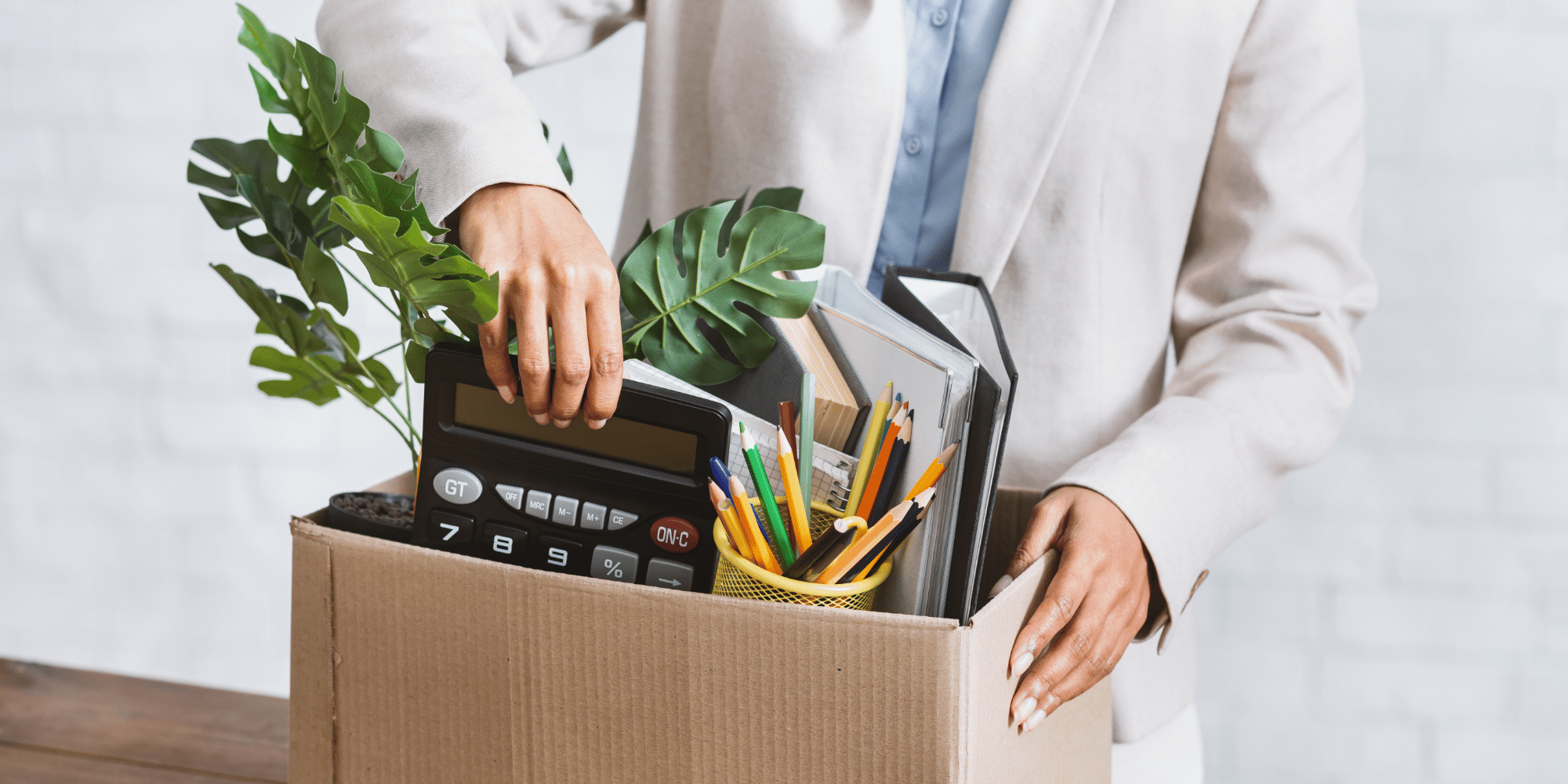 Across the United States, towns and cities are flooded with "Help Wanted" signs on business doors. The U.S. job market has seen its share of ups and downs over the last two years, but 2021 was a year of record-breaking highs in many categories. The two most important: record-breaking quits and record-breaking new job openings.
According to the most recent Job Openings and Labor Turnover Survey (JOLTS) released by the Department of Labor, a record high of 4.5 million Americans quit their jobs in November 2021 alone.1 This number contributes to the 20 million people who resigned during the second half of 2021. 2
Economists and the media have dubbed this phenomenon "The Great Resignation" or "The Big Quit." These numbers starkly contrast with the early months of the pandemic, when nearly 22 million people lost their jobs in only two months.3
| | |
| --- | --- |
| | |
Along with record-high job turnover, we are simultaneously experiencing record-high job openings across the nation. The job market reached historical pinnacles in 2021, with a record 6.4 million job openings (the highest number in history for one year) and an unemployment rate of 3.9 percent.4 For some perspective, this is 51 percent higher than the booming 4.3 million jobs added in 1946 following World War II.5 Furthermore, it took three times as long (three years total) to add the same number of jobs during the recovery from the Great Recession.6 It is possible to assume that we are just getting back jobs lost during the hot months of the pandemic, but as the chart below shows, the U.S. economy has 50.6 percent more positions open now than before the pandemic began.7  Meanwhile, in November 2021, the number of hires held steady at 6.7 million across all U.S. industries and regions.8 It seems we have the jobs, but not the workers.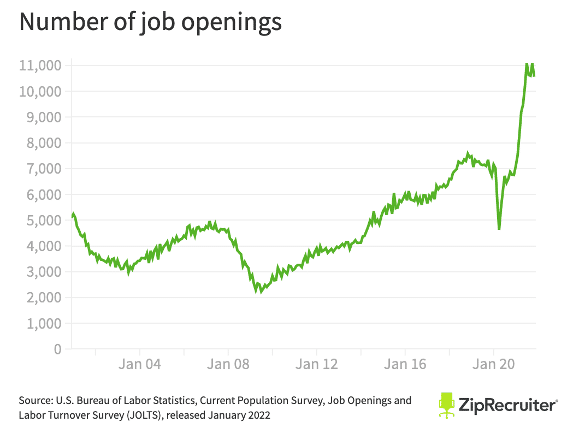 With more jobs available than workers, people ask: "How do we bring even more people to work?" Economists and experts from employment-focused companies such as Linkedin and ZipRecruiter have conducted surveys and analyzed employment data to try and discover what is driving the wave of resignations and what employees are looking for in opportunities.
The most straightforward answer would be that the unemployment benefits from the COVID-19 pandemic are driving people toward the Great Resignation. However, both data and expert opinion suggest that this is an oversimplification of the current situation. Many people are not returning to the same or any workplace once benefits have ended. For example, a restaurant owner from Greenville, South Carolina, told 60 Minutes in an interview that his employees who never returned found other jobs that better aligned with their wishes and goals.9
WATCH: Reps. Mary Gay Scanlon, D-Pa.,  and Greg Murphy, R-N.C., debate the causes and remedies for the Great Resignation in a video from our partners, A Starting Point.
Many experts believe it is about more than money; it is about quality of life. Anthony Klotz, the man credited with coining the term "The Great Resignation," told NBC in an interview that it's not that people have stopped working. Instead, he said, they are making a change. "This great resignation and the turnover that goes along with it is individuals taking their futures, their careers into their own hands and trying to craft a life that is more meaningful for them and their families," he said.10 In addition, people working in lower-wage jobs may find that quitting allows them to find higher wages with less potential exposure to COVID-19. Since the pandemic, many employees are looking for more flexibility in hours, remote work options, safety measures, reduced exposure to COVID-19, and good pay/benefits for work they find meaningful.11
On the other end of the spectrum, some people argue that there is no Great Resignation happening at all; this is simply how the job market flows. These people say that the quit rate isn't that big of a deal because many people have been quitting their jobs for years. While comparatively high for a standard year (about five percent higher than an average number of quits per year), the rates are likely similar to workforce quits seen during other significant moments in history, such as pre-and post-World War II, but quits data was not being collected then.12 These people argue that the hype makes it seem like more people are leaving jobs across industries than is actually happening. While all job sectors have seen increases in resignations, a handful make up a large portion of those numbers (e.g., accommodation and food service, which makes sense given the parameters of COVID-19).13 (For information on specific quit rates, see the chart above.)
Whatever the reason for the open jobs and resignations, most people believe the tables have turned in favor of employees—for now. As such, if employers want to fill open positions, it may require an adjustment to what work looks like moving forward.
Discussion Questions
From what you already know and what you have read, does it seem like a Great Resignation is going on in the United States? Why or why not?
What impact, if any, do you think having too many jobs available and not enough employees could have on the economy?
Why do you think so many people are quitting their jobs during the pandemic? Have you heard of anyone leaving their job or starting a new career? What were the reasons they gave?
How, if at all, do you think this change in the workforce and power shifting to the employee might impact the nature of work moving forward?
Do you view the Great Resignation as a problem? Why or why not?
If you think it is a problem, do you think there is a role for government in addressing it? If so, what role?
For More Information
A list of the highs in the labor market for 2021 from ZipRecruiter
More from ZipRecruiter on how companies are responding
The JOLTS site on the Bureau of Labor Statistics for more ongoing data
Additional Charts and Tables
As always, we encourage you to join the discussion with your comments or questions below!
Sources
[3] Ibid.
[6] Ibid.
[13] Ibid.