The Debate Over School Resource Officers and the #CounselorsNotCops Campaign
February 16, 2021
---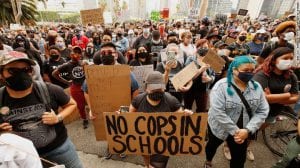 The debates over defunding or reforming the police and addressing the school-to-prison pipeline have merged to focus on the issue of police officers in schools. School resource officers (SROs) are career law enforcement officers who work in one or more schools.1 According to the Department of Justice, SROs are "responsible for safety and crime prevention in schools."2 In addition to enforcing laws, SROs are expected to act as informal counselors and educators.3
As people across the country have raised questions about the role of police,4 it is unsurprising that those debates have spilled over into schools. Some large districts are already taking steps to reduce, or even remove, police officers from schools. Shortly after a Minneapolis police officer killed George Floyd, the city voted to remove SROs from their schools. The cities of Denver, Milwaukee, and Portland, Oregon, have taken or announced similar steps5 in the face of mounting protests and public pressure.6
What Is the Debate About?
Over the last two decades, there has been a significant increase in the number of SROs in public schools.7 In 2017, the American Civil Liberties Union released a report about the rise and consequences of police officers in schools. According to the report, students of color, and particularly Black students, are overpoliced and often significantly more likely to be criminally charged for misbehavior in school.8 The ACLU found that some students were charged with assault for throwing baby carrots or paper airplanes, or charged with larceny for stealing milk.
There have been several incidents caught on camera in which police officers used excessive force against children as young as six.9 Some students of color and students with disabilities have spoken up to say that they feel threatened by police officers in schools, or that their SROs treat them differently than their white, able-bodied counterparts.10
In North Carolina, there are debates about SROs at the state level and in many of the state's larger school districts. For example, in Wake County, student activists are demanding that officials remove SROs from schools and replace them with counselors. Black Students Matter and the Wake County Black Student Coalition led demonstrations in Raleigh and surrounding communities to raise public awareness and put pressure on local officials after they voted to keep officers in schools.11 In that district, 61 percent of all SRO referrals to criminal courts are Black students, who make up only 22 percent of the student population.12
WATCH: #CounselorsNotCops, from the Wake County Black Student Coalition
In Maryland, two bills in the state legislature are compelling residents to consider the role of police officers in schools. One bill, the Counselors Not Cops Act, would shift a significant portion of the state's funding away from SROs and toward investment in counselors, social workers, and other school support staff.13 The other bill, the Police Free Schools Act, would remove police from the state's public schools.14
Maryland, like many states, increased funding for SROs and their training after the shooting at Marjory Stoneman Douglas High School in Parkland, Florida.15 States and schools recognize the need to keep students safe and are struggling to balance this priority against calls for racial justice and educational equity. While some jurisdictions are removing SROs from schools, others are considering reforming their approaches.
LISTEN: "Inside the National Movement to Push Police Out of Schools," from NPR
Many large educational organizations, such as the National PTA, the National Association of Secondary School Principals, and the National Association of School Psychologists, support the presence of SROs in schools but are calling for reforms.16 These organizations signed an open letter calling for more training and stricter standards for the selection of SROs, the inclusion of school principals in the hiring process, and annual evaluations that take into account disproportionate rates of enforcement by race, gender, and ability.17
Discussion Questions
Are there SROs in schools in your community? What have been your experiences, if any, with SROs?
Are there any reform efforts in your community or state? Are there any bills or policy changes being considered?
Do you think reform is needed? Do you believe SROs should be removed from schools? Why or why not?
How, if at all, do you think we should reform schools to address the school-to-prison pipeline?
Additional Resources
As always, we encourage you to join the discussion with your comments or questions below!
Sources
Featured Image Credit: CNN.com
[1] National Association of School Resource Officers: https://www.nasro.org/faq/
[3] Ibid.
[15] Ibid.