Tackling Climate Change: Zero-Emission Vehicles
February 10, 2021 by Danny Hastings
---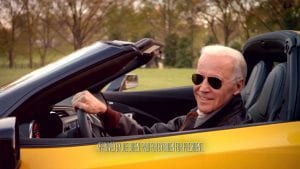 President Joe Biden has made addressing climate change one of his administration's seven "immediate priorities," requiring "bold action" by the government to improve the lives of the American people and protect the environment.1 On his seventh full day in office, President Biden signed an "Executive Order on Tackling the Climate Crisis at Home and Abroad" which, among other directives, calls for reducing greenhouse gas emissions, obtaining zero-emission vehicles for the government, and achieving net-zero emissions by 2050 at the latest.2 These goals are very ambitious—225,000 electric, zero-emission vehicles would be needed for the U.S. Postal Service alone—and they would dramatically shift our society away from the fossil fuels on which it is so dependent. Yet President Biden's plan to address climate change almost immediately received a boost from the private sector.
The day after the president signed his executive order, General Motors made the unprecedented announcement that it would phase out gas-powered cars and produce only zero-emission vehicles (those that do not expel greenhouse gases or other pollutants) by 2035.4 GM is investing billions of dollars in manufacturing its electric vehicles, including 30 new models to be released within the next five years.5 A White House spokesperson praised the decision, saying, "We applaud efforts by the private sector to further embrace renewable and clean energy technologies. As the president and many others have said, efforts like this will help grow our economy and create good-paying union jobs."6
During the Super Bowl, GM ran a series of star-studded ads featuring Will Ferrell7 and Timothée Chalamet8 as it highlighted its push to be a global leader in selling electric cars and showcased its new all-electric Cadillac LYRIQ. While zero-emission vehicles have become increasingly popular among buyers (sales increased in 2020), they still represent less than two percent of all vehicles on the road in the United States today.9
With the Biden administration and GM pursuing common goals, there is a new opportunity for both to work together though innovation and partnership, rather than relying solely on pressure or policy. Previously, GM had pushed back against federal and state government guidelines, including emission and fuel-efficiency standards from President Barack Obama's administration and the state of California.10 GM no longer has competing priorities that would prevent it from implementing effective solutions to deal with the climate crisis.
Having the support of this automotive industry leader may make it easier for President Biden to pursue his environmental agenda; it could also encourage him to go even further with his policies and pursue more aggressive action to combat climate change. Other auto manufacturers may follow GM's example and make similar changes themselves, as they shift away from fossil fuels in an attempt to remain competitive and keep up with a changing market and energy landscape.11
This movement could even expand to other industries that seek to work alongside the Biden administration, to adapt their practices, to invest in a burgeoning economy, and to improve their own bottom line. The actions of private companies would complement the White House's climate change priorities, which aim to take "swift action to tackle the climate emergency" and ensure "we meet the demands of science while empowering American workers and businesses to lead a clean energy revolution."12
Discussion Questions
Do you know anyone who owns a zero-emission vehicle? Do you see any in your community? If not, why do you think that is?
What are some benefits of the government having the support of businesses, corporations, or industry leaders for its policy agenda?
Do you support President Biden's plan? Does it go too far, or not far enough?
Do you think addressing climate change is more the responsibility of the government or the private sector? Is one currently doing a better job than the other?
As always, we encourage you to join the discussion with your comments or questions below!
Sources
Featured Image Credit: Joe Biden via Washington Post