Summer Round-Up #1: The Pandemic, Schools, and The Economy
August 26, 2020
---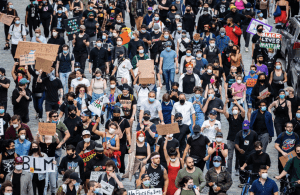 The summer of 2020 has been unlike any other. Schools across the country did not finish the end of the academic year in person, and many will not be seeing students in person once again this fall. Major events have been canceled or moved online, and we are in the midst of a presidential election that looks quite different from previous elections. On top of all the changes brought by COVID-19, the killing of George Floyd at the hands of police in May sparked protests across the country and around the world. In our first blog posts of the 2020-2021 school year, we will look back at key social and political issues from the summer so we may look ahead to the November election and beyond.
Responding to the COVID-19 Pandemic
Over the summer, the COVID-19 pandemic deepened and spread. In May and June, the infection rate seemed to be slowing, but by mid-July, almost 75,000 new cases were being reported daily. As of August 20, the seven-day average for new infections is more than 46,000 per day.1 The duration and depth of the pandemic is forcing citizens and policymakers to confront challenging questions about life under quarantine, the crippled economy, and the appropriate government response.
For additional background on COVID-19 and the government response, please see our posts about reopening the economy and enforcing social distancing.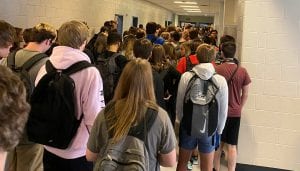 One major area of focus is schools. Schools in some parts of the country have reopened;2 in a few cases, they have had to close after an outbreak.3 The Centers for Disease Control and Prevention updated its COVID-19 school reopening guidelines to emphasize the importance of schools opening.4 However, images such as this one captured by a Georgia high school student have some parents, students, and teachers concerned.
WATCH: From A Starting Point, Reps. Josh Gottheimer (D-N.J.) and Tom Reed (R-N.Y.) debate: Should U.S. students go back to school in-person or virtually this fall?
The economy is another major area of concern amid the pandemic. The unemployment rate is now approximately 10 percent. More than 57 million people have lost their jobs in the United States5 and there are growing concerns that many of those jobs will not return, even as the pandemic recedes or a vaccine is developed.6 Policymakers face tough questions about how to respond to the dual public health and economic crises. Some advocate reopening businesses and schools so people can get back to work.7 Others are more cautious, arguing that the infection rate is not under control in many parts of the country.8
WATCH: From A Starting Point, Reps. Judy Chu (D-Calif.) and Kelly Armstrong (R-N.D.) debate: How should states reopen while preventing the spread of COVID?
The government provided a one-time relief check to many Americans and offered supplemental unemployment insurance through the CARES Act, but many people are still hurting.9 The additional unemployment insurance has expired and Congress did not authorize additional measures before going on recess. President Donald Trump signed executive orders to offer additional unemployment insurance benefits, but so far, the program has not dispersed any money and it is unclear if it ever will.10
One proposal, introduced by Sens. Bernie Sanders (I-Vt.), Kamala Harris (D-Calif.), and Ed Markey (D-Mass.), would give every American over the age of 18 $2,000 per month until the end of the pandemic.11 Another more comprehensive bill, the HEROES Act, passed the House of Representatives in May. That bill would provide additional $1,200 payments to most individuals, provide premium pay for essential workers, fund local and state governments, and extend a moratorium on evictions.12
These challenging and complex issues are impacting the lives of all Americans. They are also having a profound effect on the 2020 election. In our next blog post, we will explore key developments in the presidential and congressional races over the course of the summer, highlight significant moments from the Republican and Democratic conventions, and prepare for the final push to Election Day.
Discussion Questions
How are schools in your area handling the pandemic? Do you support your school's plan?
What different opinions do people in your community hold about whether or not to go back to school in person?
How has the pandemic impacted the economy in your community? Which businesses are struggling? Do you know people whose jobs have been affected?
Do you think that restrictions on social gatherings and businesses should be lifted? Why or why not?