Should States Continue to Shelter in Place or Begin to Reopen?
April 28, 2020 by Sarah Strum
---
A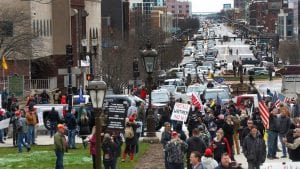 s COVID-19 has spread across the country and the globe, most U.S. states have taken to issuing shelter-in-place orders to help "flatten the curve." As of April 20, 42 states, the District of Columbia, and Puerto Rico had asked residents to stay at home. However, over the past two weeks, there has been an increase in protests against these orders, with some governors considering reopening their states for the sake of the economy.1
For additional information on stay-at-home orders, check out this breakdown from the New York Times.2
There is a growing fear across many states that continuing to ask residents to stay at home will doom small businesses, force people into poverty, and cause irreparable damage to the economy. Some Americans have argued that they are being denied their liberties, including the freedoms to utilize public areas, to conduct business, and to buy items as they please.3 As a result of these protests, state government officials have begun considering their options for reopening their respective states.
In Georgia, one of the last states to implement a shelter-in-place order, Governor Brian Kemp is beginning to allow businesses to reopen despite warnings from health experts and President Donald Trump.4 Governor Kemp has stated that although there could still be a rise in COVID-19 cases in the state, Georgia is now more prepared to handle the medical demands and to reopen certain institutions.5
Other states, including Tennessee and South Carolina, are also beginning to implement phased reopenings with certain restrictions on the capacity of stores and large gatherings. Still other states, such as Louisiana and Illinois, hope to reopen sooner rather than later, but they stress the importance of establishing strict guidelines before making decisions that could harm the public.6
As some states begin to reopen and others consider phased reopening plans, there are states that are moving in the opposite direction by extending their stay-at-home orders indefinitely. Governor Phil Murphy of New Jersey has stated that there needs to be a "14-day trend of reduced cases before any reopening could take place."7 Hawaii Governor David Ige has also warned that if public spaces open up too early, it will undo Hawaii's progress in containing the virus.
As state leaders attempt to determine what is best for their residents in the face of this global pandemic, the status of shelter-in-place orders—and the level of outbreak and public protest—will continue to change and attract nationwide interest.
Discussion Questions:
What shelter-in-place orders, if any, have been issued in your state?
Do you think states should begin to reopen? All states? Some states? No states? Explain your answer.
What do you think is most important for state leaders to consider regarding reopening their states?
What businesses, if any, do you think should be the first to reopen in your state?
Do you think everyday life will be the same after COVID-19? Why or why not?
[3] Ibid.
[6] Ibid.