Should Congress Be Allowed to Vote Remotely?
April 14, 2020
---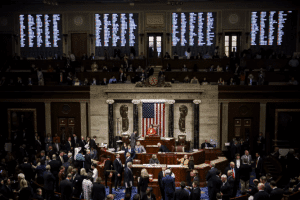 Due to the ongoing COVID-19 pandemic, 42 states—along with Puerto Rico and Washington, D.C.—have issued stay-at-home orders, effectively barring at least 316 million Americans from going out unless absolutely necessary.1 While essential businesses and services remain open, many workers now find themselves working from home. Considering the circumstances, should Congress also be allowed to vote remotely?
The Constitution requires each chamber of Congress to have a quorum (a majority of members present) in order to conduct business, but it does not state that the members need to be physically present for the procedure of voting.2 However, this is a rule that was adopted by both the House of Representatives and the Senate over 200 years ago, as the chambers each have the authority to create and follow their own procedural rules.
In March, freshman Representative Katie Porter (D-Calif.) wrote a letter to House leadership requesting a temporary change to the rules to allow senators to vote remotely during this national emergency.3 Nearly 70 of Porter's colleagues signed the letter in support of her request. "Unfortunately, during such circumstances, requiring Members to vote in person may pose public health risks or even be physically impossible for persons under quarantine," wrote Porter. "We need to provide a mechanism through which Congress can act during times of crisis without having to assemble in one place."4
Supporters of remote voting echo Porter's concerns for safety. Four representatives and one senator have already tested positive for the virus, while other lawmakers have self-quarantined after coming into contact with a confirmed case.5 The demographics of Congress are also reason for concern, as older people are at higher risk of severe sickness due to COVID-19. According to the Congressional Research Service, 66 senators are over 60 years old, and the average age of a representative is 57.6 years.6 Some senior members are in their eighties. Members travel to Capitol Hill from all corners of the country and come into contact with many people in order to do their jobs. They should be practicing the same measures ordered by their states and recommended by the Centers for Disease Control and Prevention.
Remote voting could ensure that all members of Congress—even if quarantined—get to cast their votes while protecting the safety of their colleagues, staff members, families, and constituents. Senator Dick Durbin (D-Ill.) agrees. "There was a time when physical presence was the only way to make sure that a person was present and voting," he said. "I think that technology gives us other options and we better exercise them."7
However, Congress has a reputation for being slow to change, and there is a strong bipartisan consensus among congressional leadership that the House and Senate should not rush to adopt remote voting. Speaker of the House Nancy Pelosi (D-Calif.) voiced her disapproval during a private meeting, and Senate Majority Leader Mitch McConnell (R-Ky.) told reporters, "We'll not be doing that. There are a number of different ways to avoid getting too many people together."8 Instead, they suggest other measures to protect members, including extending the window of time for voting and limiting how many members can be on the floor at any given time. "We will deal with the social distancing issue without fundamentally changing Senate rules," said McConnell.9
Both Democrats and Republicans on Capitol Hill are already using conference calls and larger meeting rooms to limit unnecessary contact and follow social distancing guidelines.10 Congress has never allowed remote voting before, so the body lacks the technological infrastructure that would be necessary to ensure a reliable and secure system. This unprecedented process would be costly and require an extensive amount of time to develop and perfect. Some worry that remote voting could lead to a deeper partisan divide, as fewer face-to-face interactions between members of different parties could mean less discussion and compromise.11 There are also concerns that such a practice could lead to a loss of productivity among members and weaken Congress' overall effectiveness as an institution.
Outside the nation's capital, state legislatures are implementing their own versions of remote voting, with the New Jersey Assembly allowing its members to phone in to vote for the first time in the state's history.12 As Congress continues to debate supplemental bills for COVID-19 relief, it will surely continue to discuss the issue of remote voting as well.
Discussion Questions:
Which arguments do you think are strongest for allowing Congress to vote remotely?
Which arguments do you think are strongest for not allowing Congress to vote remotely?
What is your personal belief when it comes to remote voting? Why?
As American life and major institutions continue to change and adapt during this outbreak, how important is it to maintain traditions such as deliberating and voting in person?
What are some things that you expect will not "go back to the way they were" after social distancing is over?
[4] Ibid.