Reversing the "School-to-Prison Pipeline"? Part 3: Examining the Impact of Prison Education
July 1, 2023 by Jacob Israel Chilton
---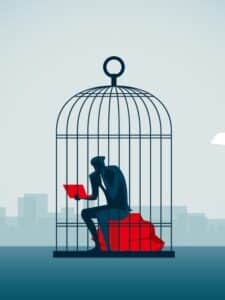 In Part 1 of this series, we saw that more severe approaches to school discipline—including "zero-tolerance" policies—have been statistically linked to higher rates of incarceration, especially among Black boys. This is seen as a key contributor to mass incarceration, which Part 2 showed has grown substantially since the final decades of the 20th century. In Part 3, we will look at the arguments for and against funding prison education programs as a way to help reintegrate incarcerated people back into society safely, with the lowest possible recidivism rate—that is, the rate of reentering jail or prison.
The Promise of Prison Education
If the goal is to reduce incarceration levels without increasing the risk of recidivism, the RAND Corporation argues that prison education programs are the best answer: "Prisoners who participate in education programs have a 43% lower chance of being reincarcerated than those who do not, and for every dollar spent on prison education, the government saves four to five dollars on the costs of reincarceration." Dr. Stanley Andrisse, assistant professor of endocrinology at Howard University and executive director of Prison to Professionals (P2P), an organization that mentors incarcerated people through prison education programs and after returning from imprisonment, breaks down recidivism rates even more:
"Three-fourths of people that step out of prison end up going back to prison between 1 [and] 5 years. Just stepping foot on college campus drops the recidivism rate—or chances of going back to prison—into the teens. If someone gets a bachelor's degree, it drops it down to 5%. A master's degree or higher, less than 1%. So … education is the most powerful tool to help people stay out of prison. … [P2P is] using it as a vehicle to help people see they can do something that brings purpose to their lives and value to the world."1
P2P is active in 34 states and enrolls around 100 people per year. It has a "90% success rate of connecting people to colleges and employment," attributing the extraordinary success rate to the "family and network of support" provided by P2P, the kind of support some currently and formerly incarcerated people rarely if ever experienced in their lives before entering prison. P2P aims, among other things, to provide the sense of hope and self-worth that the "school-to-prison pipeline" damages.
WATCH: "Dr. Stanley Andrisse Discusses Journey From Prison Cell to PhD," from Black News Tonight
Dr. Andrisse, the author of From Prison Cells to PhD: It's Never Too Late to Do Good, speaks from deep personal experience.2 He himself was incarcerated for drug crimes as a young adult and saw for himself both the dehumanizing effects of life inside prison and the empowerment offered by education. Challenging himself intellectually gave him a means of remaining positive and a form of mental freedom while incarcerated, and he credits this—along with "pro-social connections" to the outside, "such as prison visits, phone calls, and letters with positive people"—with keeping his "mind out of prison."3 But accessing educational materials was extremely challenging for Dr. Andrisse while he was incarcerated, despite his relentless effort to continue his education inside of prison. And while he had support from those on the outside, who helped him through the complicated process of applying to multiple colleges, there was no mentorship and no prison education program available inside.
The Rise of Mass Incarceration and the Defunding of Prison Education Programs
Criminal justice scholars largely point to the War on Drugs as the origin of mass incarceration.4 But many also point to the Violent Crime Control and Law Enforcement Act of 1994, signed by President Bill Clinton, as a major flashpoint in the rise of incarceration rates.5 In addition to harsher sentencing and other contributors to mass incarceration, the 1994 crime bill "stripped incarcerated students of Pell Grant eligibility, making a college education practically unattainable. In the following years, the number of prison education programs quickly shrank, from 772 programs in the early 1990s to only eight in 1997."6 At the same time that criminal justice policies increased the number of people being incarcerated, the lack of prison education funding meant that those who were incarcerated lacked access to one of the most promising paths to get out—and stay out—of prison.
But there are some who feel it is unfair to give free college tuition to people who have been convicted of a crime, when so many others are unable to access a college education without going into significant debt. Some students who want to go to college get rejected because their grades aren't good enough. Others don't have the money to pay for classes, and they don't want to have substantial student debt to manage afterward. Allowing someone who broke the law to get a benefit that those who kept to the rules do not receive sends the wrong message to some people about society's priorities.7
Others, however, point to the cost-saving investment of using tax dollars to pay for prison education programs, due to their potential to dramatically reduce recidivism rates. The Brookings Institution reports that "for every $1 spent on correctional education, $4 to $5 are saved on reincarceration costs."8
Rebuilding the Prison-to-School Pipeline
Funding for prison education programs is beginning to return, prompted in part by moving narratives showing the transformative impact of prison education programs, such as the Emmy-nominated documentary series College Behind Bars, and by recent findings showing a correlation between prison education and dramatically reduced recidivism rates, such as those collected in Dr. Andrisse's recent book. Under President Barack Obama's 2015 Second Chance program, 12,000 Pell Grants were made available to students in prison.9 A bipartisan bill—the Free Application for Federal Student Aid (FAFSA) Simplification Act—signed by President Donald Trump in 2020 permanently reinstated the availability of Pell Grants to confined or incarcerated people.10 This will "make approximately 463,000 people in prison eligible for free college courses."11
With renewed Pell Grant funding, programs such as the Goucher Prison Education Partnership (GPEP)—started in 2012 without federal funds and supported initially by private philanthropy only—will likely be able to serve even more incarcerated students. Half of these students are men at the Maryland Correctional Institute at Jessup, the other half are women at the Maryland Correctional Institute for Women. GPEP was one of 67 schools to receive limited funding through the Second Chance pilot program, but it still got only 20-25 percent support from Pell Grants, relying on philanthropy, private grants, and in-kind support from Goucher (office space, phone lines) for the other 75-80 percent. More than 300 students have taken at least two semesters of courses through GPEP, with up to 130 students enrolled currently.12
LISTEN: Eliza Cornejo interviewed by Harriet Hendel for Pursuing Justice
If we want to reduce incarceration rates, and do so in a way that is both sustainable and safe, there is a growing number of people who advocate reversing the school to-prison pipeline and creating a "prison-to-school pipeline."
Renewed Pell Grant eligibility for incarcerated people goes into effect July 1, 2023.
Discussion Questions
Should the federal government invest more in prison education programs? Why or why not?
Is it fair or unfair for incarcerated people to get free college courses? Should free college options be available to everyone, regardless of one's background?
This three-part series is about reversing the school-to-prison pipeline, but can you think of a way to preventing incarceration in the first place? How do we keep young people from entering the criminal-legal system at all?
Related Posts
As always, we encourage you to join the discussion with your comments or questions below.
Sources
[1] Andrisse, Stanley. Interview Conducted by Kristi Piehl for Flip Your Script Podcast. "Dr. Stanley Andrisse: From Prison Cells to PhD: It's Never Too Late to Do Good." https://open.spotify.com/episode/3MhrYsUQwWTCJVji3Miflp?si=GI4-VnURSH-niTeXphQg-w
[2] Andrisse, Stanley. From Prison Cells to PhD: It is Never Too Late to Do Good. Pilot Hill Press. 2021.
[3] Andrisse, Stanley. From Prison Cells to PhD: It's Never Too Late to Do Good. Post Hill Press, 2021.
[4] Alexander, Michelle. The New Jim Crow: Mass Incarceration in the Age of Colorblindness. The New Press. 2010.
[5] "The Federal Crime Bill Did Not Trigger Mass Incarceration, but It Certainly Encouraged Mass Incarceration to Grow Even Further." Ofer, Udi. "How the 1994 Crime Bill Fed the Mass Incarceration Crisis." 4 Jun. 2019. https://www.aclu.org/news/smart-justice/how-1994-crime-bill-fed-mass-incarceration-crisis
[6] Martinez-Hill, Juan, and Ruth Delaney. "Incarcerated Students Will Have Access to Pell Grants Again. What Happens Now?" Vera Institute of Justice. 4 Mar. 2021. https://www.vera.org/news/incarcerated-students-will-have-access-to-pell-grants-again-what-happens-now#:~:text=The%201994%20crime%20bill%20stripped,to%20only%20eight%20in%201997.
[7] https://connectusfund.org/18-big-pros-and-cons-of-education-for-prisoners
[9] USA Today: https://www.usatoday.com/story/news/politics/2016/06/24/pell-grants-prisoners-obama-give-inmates-second-chance-college/86312598/
[10] https://fsapartners.ed.gov/knowledge-center/library/electronic-announcements/2023-04-18/invitation-participate-revised-second-chance-pell-experiment-under-experimental-sites-initiative
[11] https://www.prisonpolicy.org/blog/2019/08/22/college-in-prison/
[12] Cornejo, Eliza. Interview by Harriet Hendel for Pursuing Justice. https://tunein.com/podcasts/News–Politics-Podcasts/PURSUING-JUSTICE-p1413425/?topicId=219619526