Reversing the "School-to-Prison Pipeline"? Part 1: Defining the School-to-Prison Pipeline
June 14, 2023 by Jacob Israel Chilton
---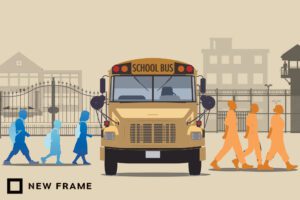 What Do People Mean When They Talk About the School-to-Prison Pipeline?
For decades, many researchers who study the public education system have discussed the impact of the "school-to-prison pipeline": escalating punishments, primarily in "high-poverty, high-minority schools," intended to deter unwanted student behaviors leading to missed class time, a lost sense of belonging within the school, and often a failure to complete a high school diploma.1 These punishments include in- and out-of-school suspension, expulsion, and in some cases corporal (physical) punishment and even arrest.
Studies have shown that harsh and unforgiving school punishments—like "zero-tolerance" policies for subjective behaviors such as "willful defiance"—directly link to reduced likelihood of graduation, which correlates significantly with a higher likelihood of incarceration.2 A comprehensive survey of these studies "tied exclusionary practices to a host of negative outcomes including lower levels of attendance, self-esteem, academic performance, and graduation as well as higher levels of anxiety, dropout, delinquency, victimization, and arrest."3
This link between exclusionary discipline—disciplinary practices that isolate a student or remove them from school entirely—and incarceration disproportionately impacts people of color, especially Black men:
"Many studies show if a student is suspended at a younger grade, they are more likely to not finish school … they're pushed out of school, and they're more likely to end up in the criminal justice system. If you are a Black man in this country without a high school degree, your chances of ending up in prison at some point in your life are two-thirds. So, two-thirds of all Black men without a high school degree will be in prison at some point in their lives, one-third at any one time."4
LISTEN: "The Movement to Dismantle the School-to-Prison Pipeline," from "Have You Heard?"
For nearly half a century, historians of the criminal-legal system have noted that prisons and schools share troublingly similar disciplinary practices.5 These similarities were clearly evident to rapper Meek Mill, who reports getting disciplined in school for subjective behaviors like "acting up," which eventually led to his dropping out. But he noticed another unsettling similarity between the education and incarceration systems when he walked into prison for the first time:
"I was put in disciplinary schools. It was like a jail. You get strip-searched before you go in, fingerprinted every day. … In other words, it was early conditioning for what everybody assumed your future was going to be. When I finally went to jail, I already knew everybody. Everybody I went to school with was in the jail."6
For researchers and policymakers who focus on the school-to-prison pipeline, Mill's experience is an example of how it "forms a key part of a larger system of criminalization and mass incarceration"—a young person experiences harsh penalties for minor infractions, alienating them from the school community and reinforcing an expectation of future incarceration; leaves school without graduating, in part due to the disciplinary approach and low self-worth; and ends up incarcerated after getting involved in crime.7
READ: "Exploring the School-to-Prison Pipeline: How School Suspensions Influence Incarceration During Young Adulthood," from the Academy of Criminal Justice Sciences
Many schools themselves have some of the markings of prisons, with armed police officers stationed on campus. Morgan Craven, who serves as national director of policy, advocacy, and community engagement at the Intercultural Development Research Association, points out, "Millions of children who attend public schools in this country attend schools where there are police officers in their schools but there's not a single full-time counselor or social worker."8
This trend of funding in-school police officers but not counselors or social workers also has a racial component: Warren reports that a "quarter-million [students] are referred to police officers in schools every year; over 60,000 are arrested every year; Black students are three times as likely as white students to be arrested in school."9 The Advancement Project's extensive review of the research on student behaviors concludes that this racial disparity is not due to more disruptive behaviors by students of color:
"Although students of color do not misbehave more than white students, they are disproportionately policed in schools: nationally, Black and Latinx youth made up over 58% of school-based arrests while representing only 40% of public school enrollment, and Black and Brown students were more likely to attend schools that employed school resource officers (SROs), but not school counselors."10
The connection between lower educational attainment and higher likelihood to enter the criminal-legal system has been long established, and it is a significant contributor to the rise in incarceration in the United States over the past several decades.11 In Part 2 of this series, we will look at the debates around mass incarceration and the question of whether decarceration—intentionally reducing the prison population—should be a priority, and if so, whether it can be done without creating more crime.
Discussion Questions
What, if anything, have you heard or learned about the "school-to-prison pipeline" in the past?
How, if at all, does this issue show up in your community?
Do you think that exclusionary discipline practices like suspension and expulsion should be discontinued? Why or why not?
Who should decide how best to discipline students? Elected lawmakers, youth psychology and development experts, teachers and school administrators, parents, or others?
What are other approaches to maintaining order in schools that don't include harsh punishments like "zero-tolerance" policies?
How high a priority is the school-prison-pipeline issue for you?
How to Get Involved
Related Posts
As always, we encourage you to join the discussion with your comments or questions below.
Sources
[1] Wald, Johanna, and Daniel J. Losen. "Defining and Redirecting a School-to-Prison Pipeline." New Directions for Youth Development. No. 99. Fall 2003. https://media.wiley.com/product_data/excerpt/74/07879722/0787972274.pdf
[2] Warren, Mark. Willful Defiance: The Movement to Dismantle the School-to-Prison Pipeline. Oxford University Press. 2022.
[3] Hemez, Paul, John J. Brent, and Thomas J. Mowen. "Exploring the School-to-Prison Pipeline: How School Suspensions Influence Incarceration During Young Adulthood." Academy of Criminal Justice Sciences. Youth Violence and Juvenile Justice. Vol. 18, Issue 3. 2019. https://www.ncbi.nlm.nih.gov/pmc/articles/PMC8277150/
[5] Foucault, Michel. Discipline and Punish: The Birth of the Prison. 1975 (Gallimard, in French). 1977 (Pantheon Books, in English).
[7] Warren, Mark. Willful Defiance.
[8] Craven, Morgan. Interview Conducted by Dr. Terrance L Green for "Racially Just Schools." 2022. https://open.spotify.com/episode/5852e3hLzzBjuSSeynhqc5?si=FqiwjmKASe2fB5gmJzvDgQ
[9] Warren, Mark. "Have You Heard?"
[10] Advancement Project Alliance for Educational Justice, Dignity in Schools Campaign, NAACP Legal Defense and Educational Fund, Inc. "Police in Schools Are Not the Answer to School Shootings." Originally Released Jan. 2013. Rereleased Mar. 2018.
[11] Bureau of Justice Statistics. "Correctional Populations Report Lower Educational Attainment than Those in the General Population. An Estimated 40% of State Prison Inmates, 27% of Federal Inmates, 47% of Inmates in Local Jails, and 31% of Those Serving Probation Sentences Had Not Completed High School or its Equivalent While about 18% of the General Population Failed to Attain High School Graduation." Bureau of Justice Statistics Special Report: "Education and Correctional Populations." 2003.