Postponed Presidential Primaries and the Pandemic
April 7, 2020
---
With COVID-19 dominating both the headlines and the realities of everyday life in the United States, it can be hard to remember that we are in the midst of a presidential primary with a general election only seven months away.
The State of the Race
A little over a month ago, former Vice President Joe Biden surged to frontrunner status with a series of victories on March 3, winning 10 out of the 14 primaries held on Super Tuesday.1 By the following Tuesday, March 10, most remaining major candidates had withdrawn from the race, essentially creating a contest between Biden and Senator Bernie Sanders (I-Vt.). Biden was victorious in all six states that day.2
Between the March 10 and March 17 primaries, the novel coronavirus began to impact the nation more severely, fueling a debate over whether or not states should continue to hold primary elections. Arizona, Illinois, Florida, and Ohio were slated to hold primaries, but Ohio Governor Mike DeWine (R) postponed his state's primary until April 28, citing concerns about public safety.3 Arizona, Illinois, and Florida went forward with their primaries and Biden emerged victorious in all three races.4 The last primary results released before the publishing of this article were for the Democrats Abroad Primary, resulting in the first Sanders victory since Super Tuesday.5 At present, Biden holds 1,217 delegates to Sanders' 914 delegates (1,991 delegates are needed to win the Democratic nomination).6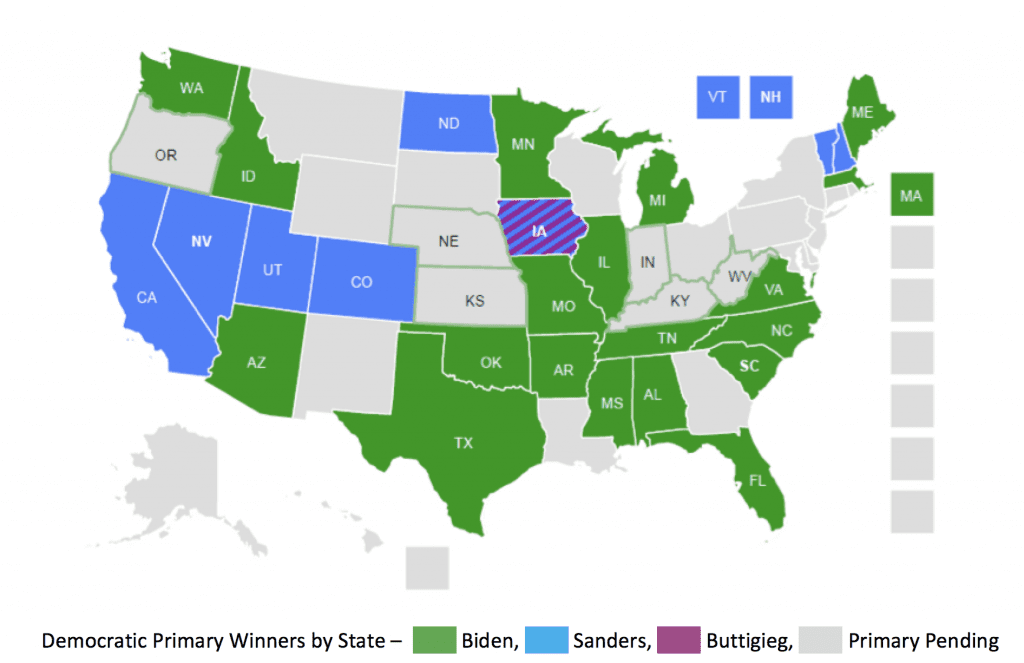 Primary Postponements
Sixteen states and territories have postponed their primaries, as more states issue stay-at-home orders and cases of COVID-19 continue to appear.7 In response to concerns over public gatherings and the delay in the primaries, the Democratic National Committee has rescheduled the Democratic National Convention to August 17, over a month later than originally planned. Observers have also begun to speculate over whether the party will hold an in-person convention at all, and to what extent it could be retooled into a virtual event should quarantines continue through the summer.8
What's To Be Done?
States cannot delay their primaries indefinitely; all contests must be complete in time for the convention. June is usually the last month in which primary voting occurs; thus far, no state has scheduled its postponed primary beyond June 23.9 If social distancing orders remain in effect, voting by mail may be the only viable option. However, few states are currently equipped to switch to a vote-by-mail system. Voting by mail is also much slower, prone to oversights, and presents logistical challenges when not conducted properly.10
Some Democratic Party officials, political strategists, and voters have also questioned why Senator Sanders remains in the race.11 Currently, the political forecasting site FiveThirtyEight.com places Biden's chance of winning the nomination at more than 99 percent; Sanders has less than a 0.1 percent chance, falling slightly below the chances of no one winning.12 However, even if Sanders were to drop out (and effectively decide the race for the Democratic presidential nomination), there are many other competitive primary contests for Congress and state/local offices that require voter input.13
Finally, questions surround the implications of a sustained pandemic on the general election. For one, the general election cannot be postponed as easily as primaries. According to the Constitution, only Congress has the ability to decide when the presidential election takes place. The current date is set by law, meaning that Congress would have to pass an entirely new law to change that date.14
Beyond this, there are two additional confounding factors. For one, the general election has never been postponed before.15 Second, the Constitution states that a new president must be sworn in no later than January 20, meaning that one way or another, the election must be held and results tabulated by that date.16 Changing these rules would require a constitutional amendment, which involves a lengthy process that requires even more voting. On top of that, the time period that elapses between the proposal and ratification of an amendment has historically ranged from a little over three months on the short end to almost 203 years.17
Discussion Questions
Do you think states should proceed with in-person primaries even if the COVID-19 pandemic continues into June?
Should all states use a vote-by-mail system?
What alternative solutions could states put forward to better ensure that people remain safe but also have their votes counted?
Some have speculated that the alternative voting methods being put forward in the wake of the COVID-19 pandemic could jeopardize the legitimacy of elections. What steps could states and the federal government take to put people at ease about the legitimacy of the 2020 election?
[15] Ibid