History and Civics Scores Drop in The Nation's Report Card
June 2, 2023 by Danny Hastings
---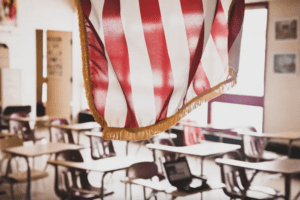 At Close Up, building civic proficiency and comprehension is at the heart of everything we do. Learn more about how we support students, teachers, and civic literacy through our programs, professional development, curriculum, and classroom resources.
On May 3, the Department of Education's National Center for Education Statistics released its civics and U.S. history data from the 2022 National Assessment of Educational Progress (NAEP). Often referred to as The Nation's Report Card, the NAEP is given to a representative sample of eighth-grade students across the country every four years and covers a variety of school subjects. Data from the 2022 tests found that scores in both civics and U.S. history have significantly declined since 2018.1
Civics scores dropped three points on average for both boys and girls, from 153 to 150 on a 300-point scale.2 Only 22 percent of students were found to be at or above a "proficient" level for civics comprehension; of the whole, 69 percent of students were at or above a "basic" level of understanding, and 31 percent were below basic.3 These scores are nearly the same as those from the civics assessment in 1998, the first year it was given.4
Scores for U.S. history, which began declining in 2014, continued to fall across the four thematic areas measured by the NAEP: American democracy, culture, technology, and world role.5 The average score dropped five points, from 263 to 258, out of a possible 500 points.6 Two out of every five students were below a basic level of understanding, meaning it is unlikely that they could "identify simple historical concepts in primary or secondary sources."7
Lower-performing students were generally worse off in both subjects when compared to their peers.8 And higher-performing students were twice as confident in their ability to explain political processes, knowledge of current events, and belief in themselves about their ability to make a difference in their community.9
In response to the NAEP data, Secretary of Education Miguel Cardona pointed to the "profound impact the pandemic had on student learning in subjects beyond math and reading."10 Online instruction and prolonged absences from the classroom disrupted learning for millions of students, resulting in a lack of support for struggling students, a rise in disruptive behavior, and ongoing mental health struggles.11 Students who fell behind still struggle to make up what they have lost. This problem is compound by teacher shortages, limited school funding, and a lack of resources and technology.
The results of the Nation's Report Card come as young people are coming of age and forming their identities in a polarized political climate. A New York Times survey of 604 teenagers from April 2021 found that although many feel disillusioned amid growing partisanship and inaction, they are still motivated to involve themselves in politics and government.12 Students are eager to learn about U.S. history, engage in political discussions, stay current with the news, and take action themselves.
However, some observers point to data collected by the literary society PEN America, which has documented 306 bills introduced in 45 states since January 2021 that aim to restrict what students can be taught in schools.13 In general, these bills target discussion of such topics as slavery, systemic racism, gender, and sexuality. Twenty-six have become law.14
A 2022 Florida law led the state to heavily scrutinize textbooks and courses for alleged biases.15 Earlier this year, the state rejected a newly created Advanced Placement course on African American studies, saying the course as it stood was "not historically accurate" and lacked "educational value."16 In Texas, meanwhile, a 2022 law bars courses from having students directly engage with their elected officials and governments.17 Class assignments in which students apply their civics lessons to the real world in a culminating project—like creating a petition, lobbying for an issue, contacting elected officials, or speaking on behalf of a city council—are no longer allowed to use school time or resources.
Secretary Cardona referenced this trend in his statement on the low NAEP scores, stressing that now is not "the time to limit what students learn in U.S. history and civics classes." He underscored the importance of students having opportunities to learn about their country and government, adding, "Banning history books and censoring educators from teaching these important subjects does our students a disservice and will move America in the wrong direction."18
Discussion Questions
Nearly half of participating eighth-graders said they took a class that focused mainly on civics and government.19 Another 68 percent reported taking a class mainly focused on U.S. history.20 Have you taken a civics class in school? A U.S. history class? If so, what topics did they cover?
One in four students who took the NAEP said their school had shifted to remote learning during the 2020-2021 school year due to COVID-19.21 Did your school require remote learning or introduce a hybrid model during the pandemic? If so, how long did it last?
Have you seen anything in the news about bans or reviews of school books, lessons, or curriculum subjects?
What are some factors you think contribute to declining civics and U.S. history scores?
What are some consequences that have or could come as a result of this trend?
What level of government (local/state/national) do you think is best suited to help students succeed? How can it help improve students' knowledge and skills?
Other Resources
As always, we encourage you to join the discussion with your comments or questions below.
Sources
[2] Ibid.
[3] Ibid.
[4] Ibid.
[6] Ibid.
[7] Ibid.
[14] Ibid.