Eliminate Illegal Immigration; Make Immigration Work for the Economy
October 9, 2019
---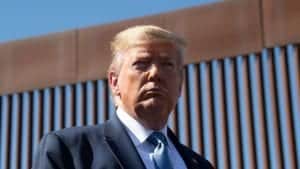 Immigration policy and enforcement continues to be a major area of conflict between Democrats and Republicans. Currently, Congress is considering many bills related to immigration, asylum, migrant detention, and family separation. This week, we will look at two proposals that Republicans are advancing; two weeks ago, we examined two bills that Democrats are advancing.
Republicans have two main goals for immigration policy: to drastically reduce illegal immigration and to ensure that immigration is good for the U.S. economy.
In May, President Trump proposed sweeping changes to the U.S. immigration system. In addition to boosting border security and securing funding for a wall on the southern border, President Trump aims to reduce the number of poor or unskilled immigrants in favor of immigrants with education or expertise that will contribute to the U.S. economy.1
Border security, and especially the proposal for a border wall, has received ample attention and is a central focus in two of our earlier posts (see: The Shutdown: It's Over! … Isn't It? and State of Uncertainty: Emergency Declaration on the Border). In this post, we will take up two proposals to change legal immigration in ways that Republicans believe will help the U.S. economy.
Secure and Protect Act of 2019 
Senator Lindsey Graham (R-S.C.) introduced this bill in May; it reached the full Senate in August. The bill addresses many aspects of immigration related to seeking asylum or refugee status and to the treatment of undocumented migrants. The bill would make several key changes to the system, including:
Lengthening the amount of time the government is permitted to hold children away from their families, from 20 days to 100 days;
Making immigration officers the sole authority on whether or not a minor is capable of making their own decisions in the immigration process;
Establishing refugee processing centers in certain countries (designated by the secretary of Homeland Security), especially in Central America; and
Barring people from countries with those processing centers from seeking asylum.2
These changes would allow the Trump administration to automatically reject asylum claims made by migrants from Central America; their only paths to entry would be legal immigration or the refugee process.
LISTEN: What is the difference between refugees and asylum seekers?
Deny Visas to Immigrants Who Cannot Afford Health Insurance
The Trump administration has plans to implement a policy of rejecting visa applications from immigrants who cannot prove that they could afford health insurance or other health-related costs.3 President Trump signed a proclamation on October 4 stating that the new practice will begin in November 2019.
Explaining the shift in policy, Randy Capps of the Migration Policy Institute said, "The administration is on-the-record wanting to cut legal immigration, and particularly wanting to cut legal immigration of lower-skilled, lower-paid immigrants who are probably less likely to have health insurance coverage."4
Supporting his proclamation, President Trump said, "Immigrants who enter this country should not further saddle our health care system, and subsequently American taxpayers, with higher costs."5
Summary
These two proposals, and the two Democratic proposals examined two weeks ago, show the different priorities of the two major political parties on the issue of immigration. While Republicans want to limit both legal and illegal immigration, Democrats are attempting to check the president's power and to ensure humane treatment of undocumented migrants.
Discussion Questions
When you think of immigration, what do you see as the most serious issue?
Should the United States take steps to reduce numbers of legal immigrants? Why or why not?
When you compare the four proposals (two from Democrats and two from Republicans), whose vision for immigration do you most support?
What do you think the United States' big-picture immigration goals should be?
Sources
Featured Image Credit: Handout/Reuters, via the Washington Post
[4] Ibid.