Censure Divides the Republican Party
February 9, 2022 by Katie Jones
---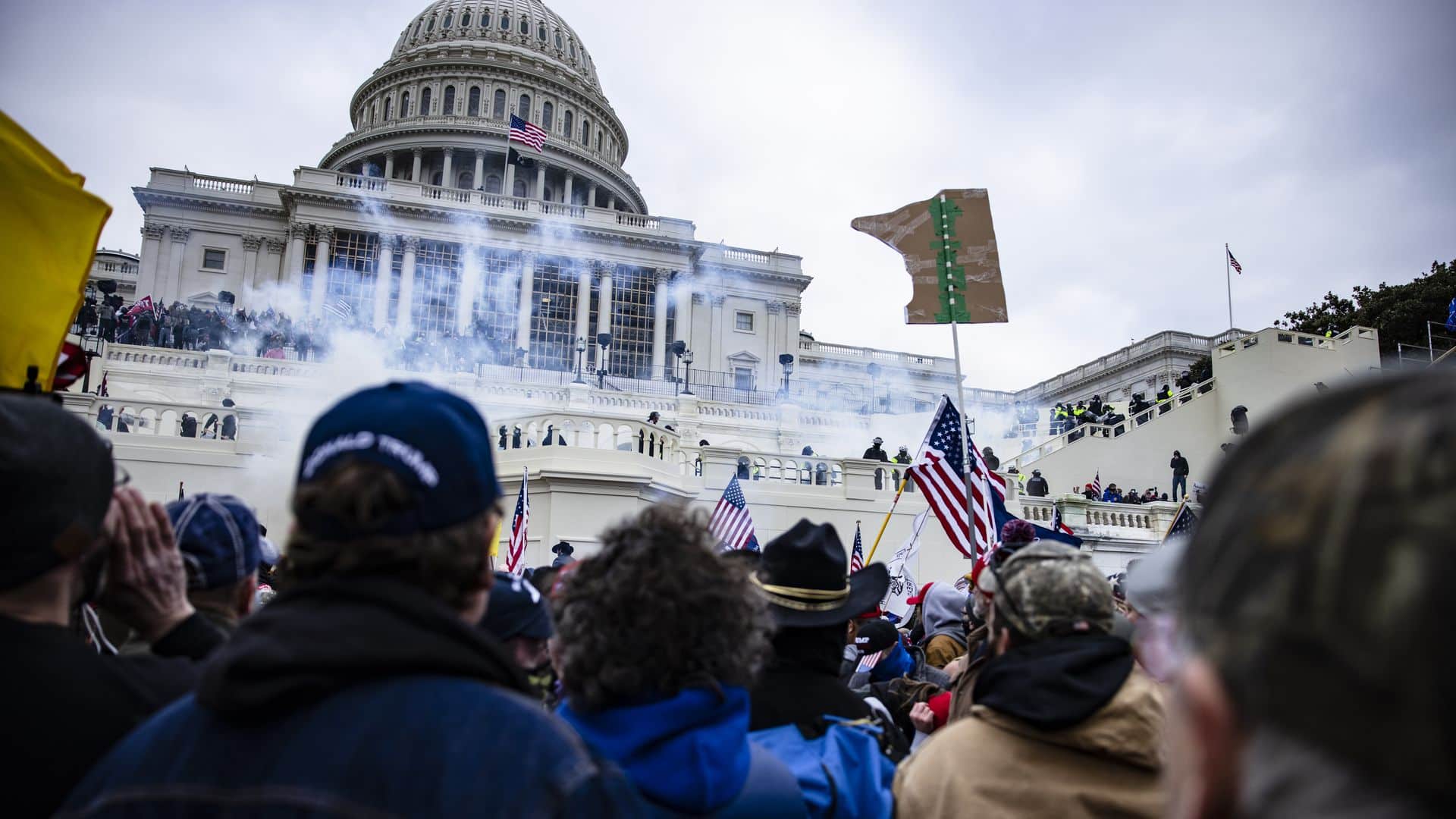 On February 4, the Republican National Committee (RNC) officially censured two members of the party, Representatives Liz Cheney, R-Wyo., and Adam Kinzinger, R-Ill., for their role in the ongoing House of Representatives investigation into the Capitol riot that occurred on January 6, 2021.
The RNC resolution claims that Cheney and Kinzinger "support Democrat efforts to destroy President Trump" and denounces "those who deliberately jeopardize [Republican] victory in November." Perhaps the most controversial text of the resolution states, "Representatives Cheney and Kinzinger are participating in a Democrat-led persecution of ordinary citizens engaged in legitimate political discourse."1 Some interpreted this statement as downplaying the riot and showing support for those responsible.2 Later that day, RNC chairwoman Ronna McDaniel tweeted that the language was referring to "ordinary citizens who engaged in legitimate political discourse that had nothing to do with violence at the Capitol," although the resolution does not make that distinction and does not specify which actions the RNC views as legitimate.3
READ MORE: Insurrection at the Capitol on the Current Issues Blog
On January 6, 2021, supporters of former President Donald Trump rioted in an attempt to stop the certification of the 2020 presidential election.4 The Department of Justice estimates that between 2,000 and 2,500 people entered the Capitol. More than 725 people have been arrested, with charges ranging from parading, demonstrating, or picketing in a Capitol building to assault with a deadly weapon. As a result of the violence, 138 law enforcement officers were injured and two people died.5 In addition to the investigations by law enforcement agencies, the House launched its own investigation with a select committee that currently includes seven Democrats and Cheney and Kinzinger as the sole Republicans, all of whom were chosen by Democrats and Speaker of the House Nancy Pelosi, D-Calif.6
READ MORE: Who Is Accountable for the Riot? on the Current Issues Blog
On the day of the censure vote, McDaniel made it clear that the RNC is strongly prioritizing party unity, something Cheney and Kinzinger are purportedly threatening with their presence on the House committee and continued criticism of President Trump. "When Republicans come together, we win," McDaniel said at the RNC general session.7 After facing criticism directed at the language in the resolution, McDaniel defended the RNC's decision. "Liz Cheney and Adam Kinzinger crossed a line," she said.8 Richard Porter, an RNC member from Illinois, agreed with the censure, saying, "The nominal Republicans on the committee provide a pastiche of bipartisanship, but no genuine protection or due process for the ordinary people who did not riot being targeted and terrorized by the committee. The investigation is a de facto Democrat-only investigation increasingly unmoored from congressional norms."9
READ MORE: Free Speech and Censorship Fallout from the Capitol Riot on the Current Issues Blog
Shortly before the censure vote, Representative Cheney stated that her party had become "willing hostages to a man who admits he tried to overturn a presidential election."10 Several members of the Republican Party, including Senators Bill Cassidy, R-La., and Mitt Romney, R-Utah, and Maryland Governor Larry Hogan, criticized the censure. "Shame falls on a party that would censure persons of conscience, who seek truth in the face of vitriol," tweeted Romney. "Honor attaches to Liz Cheney and Adam Kinzinger for seeking truth even when doing so comes at great personal cost."11
The fight over President Trump continues to divide Republicans, as some support him and others believe opposing him will keep Republican congressional majorities out of reach in the upcoming midterms. Other Republicans believe they should be allowed to criticize the former president or disagree with the RNC. "It can be uncomfortable when you say I'm not going to align myself neatly with what the party is saying just because the party is saying [it]," said Senator Lisa Murkowski, R-Alaska.12
Discussion Questions
Is a desire for party unity an acceptable reason for censuring members? Why or why not?
Last year, the RNC soundly denounced the January 6 rioters right after the events. Why might party leadership have chosen to use language in the February 4 resolution that critics see as supporting the rioters?
Cheney now has a higher risk of losing her spot in Congress. What issues are important enough to you to risk losing your power to make change?
How important is party loyalty to you? If you were voting for a member of Congress, would you take party loyalty into account?
As always, we encourage you to join the discussion with your comments or questions below!
Sources
[1] Washington Post: https://www.washingtonpost.com/context/rnc-resolution-to-censure-cheney-kinzinger/cf48ebbc-aeb2-42c2-9a6b-3802186203e3/?itid=lk_inline_manual_8&itid=lk_inline_manual_4
[2] NBC News: https://www.nbcnews.com/politics/donald-trump/it-s-disappointing-avenging-trump-overshadows-midterm-message-rnc-n1288715
[3] Washington Post: https://www.washingtonpost.com/nation/2022/02/03/rnc-cheney-trump/
[4] NPR: https://www.npr.org/2022/01/06/1070736018/jan-6-anniversary-investigation-cases-defendants-justice
[5] New York Times: https://www.nytimes.com/2021/02/11/us/politics/capitol-riot-police-officer-injuries.html
[6] House of Representatives: https://january6th.house.gov/about/membership
[7] NBC News: https://www.nbcnews.com/politics/donald-trump/it-s-disappointing-avenging-trump-overshadows-midterm-message-rnc-n1288715
[8] New York Times: https://www.nytimes.com/2022/02/04/us/politics/republicans-jan-6-cheney-censure.html
[9] Ibid.
[10] Twitter: https://twitter.com/Liz_Cheney/status/1489410422172262404?s=20&t=HzA066fMTwFAuRqhuY5BoA
[11] Twitter: https://twitter.com/MittRomney/status/1489611374930141184?s=20&t=QLeXMdTUgkd89Dr4eV6-zQ
[12] The Hill: https://thehill.com/homenews/sunday-talk-shows/593013-murkowski-it-can-be-uncomfortable-not-to-align-with-what-the-party-is-saying?rl=1