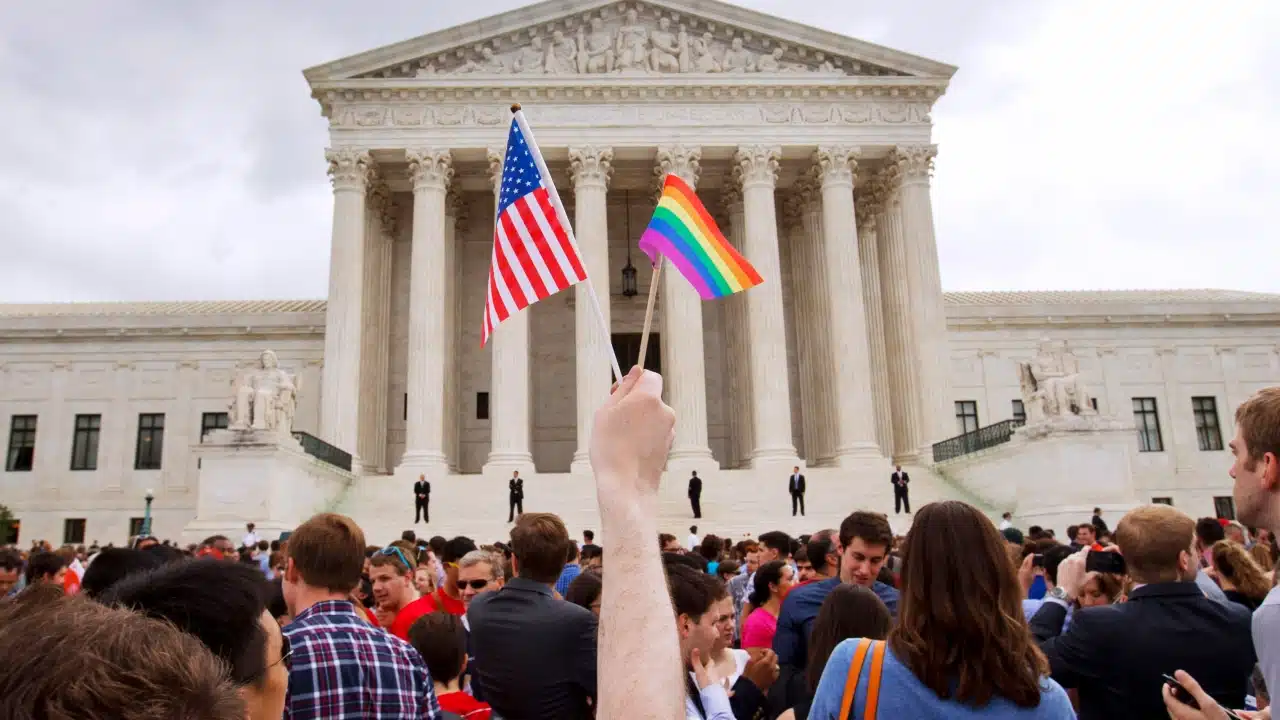 The Senate passed the Respect for Marriage Act on November 29, and the House of Representatives is expected to pass it this week. President Joe Biden has already said he will sign it. The bill is the result of months of work by congressional leaders to create legislative protections for same-sex married couples.
The History of Same-Sex Marriage in the United States
Gay marriage was legalized across the country with the Supreme Court's decision in Obergefell v. Hodges (2015). The case decided two things: (1) states must give marriage licenses to same-sex couples, and (2) states must recognize same-sex marriage licenses issued in other states.1
Before Obergefell, the federal government passed the Defense of Marriage Act (DOMA) in 1996, which limited the definition of marriage (in the eyes of the federal government) to unions between a man and a woman. DOMA allowed states not to recognize same-sex marriages performed in other states. Couples who were married in states that licensed gay marriage could not access the federal protections and privileges of legal marriage, such as access to a spouse's employment benefits, the rights of inheritance, and tax benefits.2
Because the right of gay couples to marry is currently protected by a Supreme Court decision, advocates for the Respect for Marriage Act argue that more permanent protections, in the form of a national law, are necessary. The Court rarely overturns its past decisions, but it did so with Dobbs v. Jackson Women's Health Organization (2022), which overturned the constitutional right to abortion established by Roe v. Wade (1973). In Dobbs, Justice Clarence Thomas included in his concurring opinion that the Court should reconsider its previous decisions about the right to access contraception, same-sex marriage, and same-sex romantic relationships.3
What Does the Respect for Marriage Act Include?
The Respect for Marriage Act would repeal DOMA and prohibit states from denying out-of-state marriage based on sex, race, or ethnicity. It would not require all states to continue providing marriage licenses to same-sex couples, but states would have to recognize those marriages performed legally in other parts of the country. The bill is intended to act as a protection for the more than 710,000 same-sex married couples in the country in case the Supreme Court reverses its Obergefell decision.4
The bill includes an amendment guaranteeing that faith-based groups would not lose their tax-exempt status or risk losing federal grant money for their objection to same-sex marriage, and that such groups would not need to recognize same-sex unions. This amendment was a bipartisan compromise for the 12 Republicans who joined Democrats in voting 61-35 to beat a filibuster in the Senate. Several churches and religious freedom organizations that do not support same-sex marriage endorsed the bill, including the Church of Jesus Christ of Latter-Day Saints, the Seventh-Day Adventist Church, the National Association of Evangelicals, and the Union of Orthodox Jewish Congregations.
Opponents of the Respect for Marriage Act say it is an attack on religious liberty, and that it does not include sufficient protections for people and organizations who hold religious beliefs that marriage should be defined as between one man and one woman. The Catholic Church and several conservatives publicly criticized the legislation, including Senators Mike Lee (R-Utah) and James Lankford (R-Okla.). The senators stated that the bill would make churches, religious organizations, and businesses vulnerable to lawsuits if they do not recognize gay marriage.5
Discussion Questions
Why do advocates of the Respect for Marriage Act believe it is important to pass?
Why do opponents of the bill believe it should not be passed?
Why might religious groups that oppose same-sex marriage support this bill?
What are the differences between rights protected by the Supreme Court and those protected by federal law?
What do you think the role of Congress should be when it comes to the issue of gay marriage rights?
Additional Resources
As always, we encourage you to join the discussion with your comments or questions below.
Sources
[1] Oyez. Obergefell v. Hodges. Web. 5 Dec. 2022.
[2] Cornell Law School Legal Information Institute. "Defense of Marriage Act." Web. 5 Dec. 2022.
[3] Alfonseca, Kiara. "Supreme Court Opens Door to Overturning Rights to Contraceptives, Same-Sex Relationships and Marriage." ABC News. 24 Jun. 2022. Web. 5 Dec. 2022.
[4] Karni, Annie. "Same-Sex Marriage Bill Passes Senate After Bipartisan Breakthrough." New York Times. 29 Nov. 2022. Web. 5 Dec. 2022.
[5] Waters, Emma. "Radical 'Respect for Marriage Act' Could Spell End of Religious Tax Exemptions." Heritage Foundation. 30 Nov. 2022. Web. 5 Dec. 2022.