Sheila Babauta | Student 2005
May 6, 2020
---

When Sheila Babauta's high school counselor introduced her to Close Up, she wasn't sure what to expect from the trip. Her older sister had gone on Close Up, and all she knew was that she would fly very far away and visit a lot of interesting places with her friends. Coming from a small community on the island of Saipan, Babauta had never experienced a big city or a fast-paced lifestyle. In her mind, the contiguous United States looked like scenes from MTV, VH1, Forrest Gump, and Home Alone. But after traveling 8,000 miles over the course of two days, Babauta arrived in Washington, DC, along with her peers from Kagman High School and many students from neighboring Pacific Islands.
Visiting the White House, the Statue of Liberty, Ellis Island, and Times Square, and attending a Broadway musical made Babauta feel small in comparison to the grandness of DC and New York City, but she was also in awe of the flashing lights and illuminated buildings. As she stood at the Statue of Liberty and in front of the White House, she remembers feeling like she was plucked out of Saipan and dropped into another world. She thought, "Wow, I'm here." Being in DC and New York City was a stark contrast to her beloved, 14-mile-by-7-mile, tropical home of Saipan.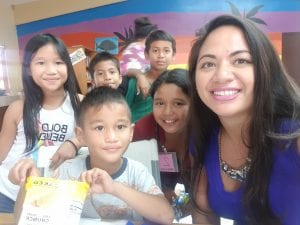 Before participating in her Close Up program, Babauta was nervous about new experiences and new adventures. On the trip, her environment was constantly changing. She met new people from places like Samoa, Alaska, and Idaho, and she spent much of her personal time with her roommates. She loved learning about the other students and hearing about how they grew up and how their lives were different from her own.
The trip inspired Babauta to continue her education and to branch out into other areas of the country. After high school, she completed her undergraduate education in Hawaii before moving to Washington state. During her time in other cities, Babauta became active in various volunteer groups, charities, and nonprofits, and constantly sought out new experiences and new people. After 10 years of living elsewhere and being involved in those communities, Babauta decided to move home and make a difference in her home community. Upon her return, she noticed that Saipan was the same beautiful island that she had left years ago. But was it too similar to the day she left?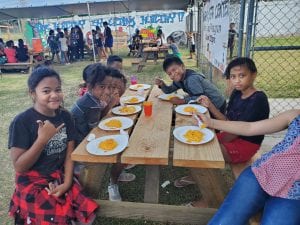 All of the wonderful diversity and community support had remained in place, but so had the separation between the community and the political world. Determined to become more connected, Babauta joined the Marianas Young Professionals (MYP), a local group dedicated to engaging young people socially, professionally, and civically. Through her involvement with MYP, she noticed that the community felt disconnected to local politics, and that infrastructure was in need of assistance. From her participation in Close Up, Babauta learned the value of truly participating in government, and she wanted to share the message with her fellow islanders. It didn't mean that you had to run for office or make a drastic change; it meant that you could make your voice heard by attending a public hearing or a town hall meeting.
For Babauta, it was also important that the community get to know candidates' experiences and qualifications in addition to sitting down with them for dinner. She longed for more civic participation and a specialized government that was ready to take on new goals for Saipan and the Marianas. Volunteering at a sign-in table during a local debate, she realized that all of her experiences had led her to a vision of a growing and prosperous community, where everyone in the Commonwealth of the Northern Marianas Islands (CNMI) is happy and healthy.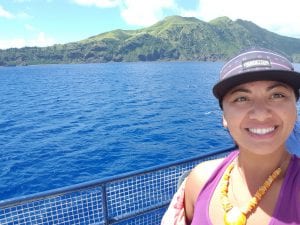 Babauta began working in the governor's office, learning more about the political process and the details of local politics. She saw that this new commonwealth, formed in 1975, still had room to grow and more to learn. She felt that all of the diversity that the island provided, through different people, food, experiences, and landscapes, should be highlighted and elevated. At the age of 29, Babauta ran for office, seeking to become the District 4 representative for the CNMI. In her campaign, she focused on respect, integrity, service, and empowerment (R.I.S.E.). She wanted to take politics from a local level and expand it in order to provide perspective on the CNMI as a whole. There were many issues that needed to be addressed, which sometimes caused pessimism about the political world. However, Babauta had no time for "oh, that's politics" or "this is how things are." Her message to the community was, "We can have a lifestyle that is sustainable and healthy. … We can have hope and trust in government."
As a freshmen lawmaker, Babauta wanted to say yes to everything and take on as many projects as she could. But she soon realized that in order to be efficient and effective, she had to select various projects that she could dedicate her time to and projects that truly make a difference.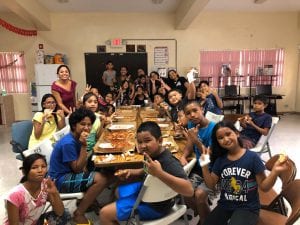 One of these projects was incorporating the chain of northern islands into current policy. As part of this approach, Babauta was determined to make the voyage north, to a place that many constituents may not have seen despite it being part of their district. Because these islands are out in open waters, weather conditions in the region have to be perfect in order to make the journey possible. She had been hoping to make this trip for a long time; finally, the time came when the conditions were right and a local mayor had issued her an invitation to visit. Without hesitation, she jumped at the chance to see the area and packed her bags. Babauta describes the largest island as a gorgeous volcanic island with black sand beaches, with geography that reminded her of being in Hawaii. Only three of the islands are currently inhabited by a few brave people, who are responsible for providing for themselves. Babauta says she hopes that in the future, these northern islands can be included in the larger vision for the CNMI.
Back home, another one of Babauta's proudest ventures has been adopting a youth center that brings children together in one place to play and learn. She says that she never had such a place to go to when she was growing up, where the community could come together in an atmosphere of understanding rather than judgment. Being able to provide children with a place to feel comfortable around each other and to have positive interactions is allowing the community to thrive. She says that when she visits, it's important for her to model what a true representative is like, and to help them grow. Through all of her efforts, Babauta hopes to be proud of the commonwealth she is handing over to the next generation.
What inspires you?
Children! Whenever I feel down or discouraged, I go to the youth center to have my spirits lifted. Children are naturally creative, great negotiators when it comes to getting treats, and they simplify things. As adults, we tend to complicate issues that really don't need to be complicated. Sometimes they see solutions so easily that we would never see ourselves. They keep me humble and grounded because I know that the changes I envision are really for them and will impact them the most. They are a reflection of the state of our Commonwealth and I am grateful to share a space with them, where we can have open, honest, and usually entertaining conversations!
Why do you think it is important to be involved in your community?
When I look back to how I got to this seat and this office, I think about all of the experiences that got me here. Staying involved in my community was a consistent and necessary action at each stage of my career. Getting involved helped me create relationships, develop interpersonal skills, and improve my problem solving skills. Participating in different activities gives you a better perspective on your environment and it does a lot for your growth because of all the people you meet and the exposure that you get. I really encourage young people to go out and participate, go out and volunteer. It's a great way to learn, to put your phone down and get your hands dirty planting trees, cleaning beaches, or painting benches. Being in a new environment and being uncomfortable means that you're trusting the people around you and the experience you chose, and allowing the experience to become comfortable and go well. Every transition and chapter in life is about getting used to being uncomfortable and overcoming it. Through volunteerism, you realize it's not always about you, sometimes it's about supporting the people around you.