Maya Nieto | Student 2009
September 24, 2018
---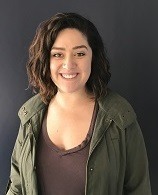 Maya Nieto was one of over a million people who filled the National Mall on a frozen Tuesday morning in January 2009 to witness President Barack Obama's first inauguration. During her senior year at Mercy High School (San Francisco, CA), she traveled to Washington, DC, with several schoolmates, joining more than 3,000 students from across the country for the 2009 Close Up Inauguration Program. Her sense of inspiration from that day remains a vivid memory, even nine years later.
Some of the capital's sites also made lasting impressions. The Newseum, which had been recently relocated from Virginia across the river to DC, was Ms. Nieto's favorite stop. She was fascinated by its deep exploration of the free press guaranteed under the First Amendment. The Vietnam Veterans Memorial also left an impact on her. Created by another notable Maya – sculptor and architect Maya Lin – the somber place of remembrance provoked a reaction that went beyond words. Observing one of the most visited national memorials, known as "The Wall That Heals," also allowed her to bring home a powerful experience to share with the history buffs in her family.
Ms. Nieto found that crossing the country to attend the inauguration bolstered her confidence to pursue even more adventurous endeavors. The following year after her Close Up trip, she traveled a much farther distance to Thailand for a community service project. She next headed north from the Bay Area to Oregon, attending the University of Portland, where she earned a bachelor's degree in Psychology with a minor in Education.
Following her university studies, Ms. Nieto became a Lead Teacher with the Aim High program, a summer enrichment program serving over 2,000 middle school students each year on 17 campuses across Northern California. Joining the staff at Aim High was really a return for her, having already been involved with the program as a middle school participant, high school intern, and summer instructor over the years.
Ms. Nieto eventually transitioned to her current role as Aim High's Alumni and Student Engagement Manager. Her work demonstrates the value of building a strong alumni community that can provide life-long benefits to its members. Particularly for organizations like Close Up and Aim High, which provide vital academic enrichment for students, continued engagement yields opportunities for personal and professional development.
Ms. Nieto sat down with us to talk about her Close Up experience, and her personal and professional commitment to community building.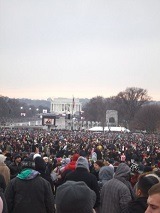 CU: What memories of the inauguration do you think back on today?
MN: Our group arrived early enough to see the sun rise over the Capitol Building and the space on the National Mall gradually fill with people. As a small group of seven California girls, we were not prepared for the weather. I used every hand-warmer available, putting them in my gloves, boots, and pockets. We found some relief from the cold in the basement of one of the Smithsonian Institution museums. Everybody was really happy, and my overall impression was that of a joyful and empowering day.
CU: What was your favorite memorial or museum?
MN: The Newseum was most striking for me and my classmates. The curation of the museum fosters an emotional and thoughtful experience. I remember that as a day when everyone in my group learned something new. The exhibits allowed us a glimpse into some of the most pivotal events in history through the lens of the free press. I think we could have spent all day walking through and digesting the material.
CU: How did Close Up enrich your growth as a student and a citizen?
MN: Close Up introduced me to other people my age from across the country. I enjoyed meeting fellow students from diverse backgrounds. Encountering different ideologies and views was a unique experience for me. The academic components of the program challenged us to consider other perspectives and to examine our own.
CU: What does the principle of citizenship mean to you?
MN: Community is a huge value of mine. For any given person, your sense of citizenship within a community may correspond to your neighborhood, city, or country. There are a lot of challenges that can strain the bonds that reinforce strong communities at all of these levels. Cynicism sets in when our sense of connection to others is impaired. Remember to look to those around you, to the people you support and those who lend support to you. Something we focus on in our work at Aim High is the formation of global citizens. Each of us is a small piece of a bigger picture, and we have to figure out what that means for us as individuals.
CU: What aspects of civic engagement have been important for you? How can young people be active participants in their communities?
MN: I try to engage with my community as much as possible. It can be scary to do something you're not used to, especially in a new environment. Close Up was a unique experience that gave me the courage to take on new roles in new places. In addition to my work in Thailand, I also found opportunities for community service on the U.S. border with Mexico, and in Portland during my college years. Striving to be an active and engaged citizen can lead you to explore opportunities to serve others in many forms and in any number of settings.
CU: What do you envision for your career path in the years ahead?
MN: Aim High has been an important part of my academic and professional development. I have been involved with the program since 7th grade. My experience as a student provided the enrichment for me that I have now seen in the lives of hundreds of others. I returned as an intern, and subsequently became an instructor throughout high school and college before taking on the work of engagement with students and alumni. Seeing the continual growth of Aim High makes me proud to be a part of such an innovative organization. Education is where I find joy in my life and engaging with children and families directly inspires me, so I envision my career path will continue in this field.
CU: What advice do you have for young people considering their plans for the future?
MN: My work involves dealing with alumni from our programs on a daily basis, often encouraging and providing guidance with their transitions to high school or college. Transitions are hard, and there are plenty of things that can get in the way of your plans if you let them. My advice is to put yourself on your to-do-list. In the midst of managing other competing priorities, set aside some time to focus on yourself.
Young people are often asked to take on more and more responsibility, sometimes more than they are ready for at a given age, especially here in the Bay Area. Checking in with yourself periodically can help keep things in perspective.
Set high expectations for yourself, and don't shy away from taking chances to explore new opportunities. You never know when an interesting class or extracurricular project might change your life for the better.