Anita Ortiz | Student 1988
September 24, 2018
---

Anita Ortiz (née Woerner) began her connection with Close Up during a week-long high school program in 1988, learning about American government in collaboration with peers from across the country. She and other participants stayed on the Gallaudet University campus, a historic and prestigious institution for deaf and hard-of-hearing students in DC. Meeting students from other parts of the country with different perspectives broadened her outlook on politics in our country.
Soon after her participation in Close Up's flagship program, Mrs. Ortiz was offered the opportunity to participate in three televised Close Up Forum roundtable discussions on C-SPAN. As a senior at La Reine High School in Suitland, MD, she joined other DC-area students in exploring issues like medical ethics, patriotism, and the threat posed by nuclear weapons. Answering a question about how she might respond if given 30-minutes notice of an impending nuclear attack, Mrs. Ortiz described her anticipated reaction of saying a prayer and finding a way to enjoy her remaining moments. One viewer appreciated the sentiment and sent a fan mail letter. (Over the course of a 30-year partnership, the Close Up Foundation and C-SPAN provided opportunities for students to discuss issues amongst themselves and with experts for national audiences.)
Mrs. Ortiz went on to complete her undergraduate studies at Princeton University in 1993, earning a bachelor's degree in politics and a certificate in Russian studies. Her first job after college was with a DC consulting firm. She gained valuable experience and was able to pay the bills, but never lost sight of her passion for film and television. Eventually, she broke into the entertainment industry after securing a job as an assistant to Dean Cain, an actor known for his role as Clark Kent/Superman on the 1990s hit Lois and Clark, and has never looked back.
Over the course of ten years working in government relations for Paramount Pictures, Mrs. Ortiz combined her passions for public policy and entertainment. One highlight from her early years was the opportunity in 2000 to staff Sherry Lansing, then the Paramount CEO, at the Democratic National Convention in Los Angeles, where Ms. Lansing was a delegate. As Mrs. Ortiz advanced at Paramount and moved into leadership at parent company Viacom Inc., her responsibilities expanded to brands such as BET, MTV, and Nickelodeon where she partners with the talent acquisition, employee engagement, and corporate responsibility teams. She continues to put her passions into practice as a Vice President for Global Inclusion Strategy for Viacom.
Mrs. Ortiz generously made time to speak with us in her Los Angeles office.
CU: What memories stand out from your Close Up experience?
AO; Close Up offered a deeper dive into government than we could get in a civics class. It made the material from our textbooks come alive. Participating in Mock Congress left a strong impression in my memory. A key moment came in which I stood up to interject – "point of order!" – correcting a mistake in the legislative process to get the debate back on track. I took away a sense of empowerment from that week, which reinforced a belief in my ability to make my voice heard.
Close Up TV offered a complementary experience. I met students from other DC-area schools and had the chance to share my point of view with audiences across the nation. Looking back, I appreciate the opportunity Close Up provided to develop my public speaking skills. It is also fascinating to consider how my opinions evolved over time from those of the high school student in those C-SPAN videos.
CU: How did your experiences as a student help prepare you for college and a career?
AO; The atmosphere at La Reine, the all-girls Catholic high school I attended, offered a wonderful platform for me to use my voice with confidence. My classmates and I enjoyed the benefit of challenging academics and affirmation based on our achievements without the day-to-day distraction of boys. Close Up was a highlight of my high school years. It further bolstered my confidence, without which I would not have had the same ability to thrive at Princeton. Having both Close Up experiences on my college application also set me apart in a very competitive process.
CU: Can you describe your career transition from DC to Hollywood?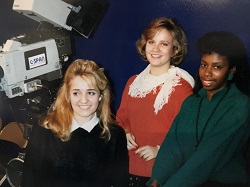 AO: I studied politics at Princeton and was inspired to study Russian language, culture, and history by a curiosity about why Russia and the United States were perpetually at odds. My first job consulting in DC paid the bills and gave me an opportunity to use the expertise I had gained from my studies. However, I could not shake the desire to get involved in the entertainment industry.
In 1994, I learned that Dean Cain, a popular actor at the time and fellow Princeton alum, was looking for an assistant. Knowing I had nothing to lose, I tried a creative approach to get his attention. Rather than submitting a traditional resume, I sent him a fortune cookie with a personalized message to distinguish myself in a sea of applicants. Another tactic I attempted was writing an article for The Daily Planet (the fictional Metropolis newspaper that employed Clark Kent), indicating that sources said he was going to hire me. Yet another was composing a Top 10 list of "Why to Hire Anita" in the style of David Letterman. Though I did not initially receive a response, eventually I met Dean at a DC event. Remembering my creativity and persistence, he offered me the job without even conducting a formal interview. The experience of being an assistant was unlike anything I've experienced before or since. That opportunity opened many doors and ultimately led me to Viacom.
CU: Are there any highlights you can share from your career?
AO: I participated in the mentoring program offered by Paramount/Viacom in 1999 and was matched with an amazing 4th grade girl. We would meet weekly and did everything from working on homework to visiting local museums. I stayed with her through her middle and high school years and we're still in contact. I've seen her get married and even held her babies. I cannot understate power of mentoring. We all want someone to believe in us and have our back.
CU: Can you tell us about your current role as VP of Global Inclusion Strategy at Viacom?
AO: My group within Viacom works with media brands many readers may recognize, like Paramount, Nickelodeon, and Comedy Central. Our work basically covers three "buckets" that help define our company. The first is focused on people, ensuring that we attract, develop, and retain top talent and build a sense of belonging among all employees. Another focuses on our process and products, ensuring we have diversity among the partners we work with and in what we produce for people to see on screen. The last deals with our corporate presence, essentially our visibility in the communities where we live and work.
One objective is encouraging diversity both in front of and behind the camera. I help our company ensure that our workforce reflects our audience and that every element of our business is viewed through an inclusive lens. Advancing inclusion, empowering employees, and promoting corporate responsibility through community programs help create a culture of belonging and ultimately strengthen our business.
The beauty of my job is that no two days are the same. With three offices around Southern California, on a given day I may be meeting with employees, talking to external partners, or orchestrating events.
CU: Can you describe the practical benefits of diversity and inclusion initiatives?
AO: We have a wealth of research that attests to the value of diversity in the workplace. Looking at the Fortune 500 companies with diversified workforces, including in leadership, outperform their peers. A winning organization needs a deep bench. You're not going to win the World Series with just a good pitcher. People with diverse viewpoints, experiences, and skills are often more effective when it comes to problem solving and innovation. Our commitment to inclusion also enables us to reach diverse global audiences with authenticity.
CU: Is there any specific advice you have for those considering a career in your field?
AO: You must have passion in this business, as in anything you want to do well. The entertainment world can be difficult to navigate, and you need that fuel to get you through. Likewise, learn how to build relationships and nurture them continually. Your network will help you find opportunities and overcome obstacles. In a business that seems to be shifting constantly, you must also be adaptable. If you can effectively manage change you can be successful, especially in a volatile environment like this one. Be true to who you are. There is a vital need for different perspectives and fresh voices in an industry that has historically been exclusive. Bring your uniqueness. Don't set it aside, because we need people who can break the mold.
CU: What does the concept of citizenship mean to you today?
AO: At its core, citizenship is about being informed and engaged. The First Amendment grants Americans exceptional freedom to stand up for what we believe in, and making use of our constitutional rights requires us to understand the issues. From an early age, I absorbed current events. Living in the DC area, the national news was a major part of our local news. My work in government relations allowed me to learn how campaigns really work, see how public policy affects business, and connect with many smart, motivated people committed to public service. Of the U.S. presidents who have served in my lifetime, I've had the privilege to meet Jimmy Carter, Ronald Reagan, George H.W. Bush, and Bill Clinton, plus I've heard Gerald Ford and Barack Obama at speaking engagements.