Amy Sue Vruwink | Student 1993
September 24, 2018
---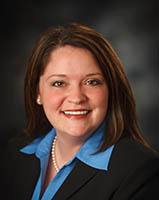 These days, Rep. Amy Sue Vruwink spends her days working to craft and pass legislation as a member of the Wisconsin State Assembly representing the 70th Assembly district in central Wisconsin. Twenty years ago, in the spring of 1993, she was exploring the nation's capital and the federal government–and getting a taste for a public service–with Auburndale High School on a Close Up program. Rep. Vruwink credits Close Up with helping influence her career path and decision to run for office. According to the 11-year veteran of the legislature, "What I did through the [Close Up] program mirrored what it is like to work with people in the Wisconsin government and to work with my various constituents."
While she was on Close Up, Rep. Vruwink loved visiting the various historical and cultural sites, in particular the U.S. Holocaust Museum, which had just opened. Her program also traveled to Gettysburg, which she enjoyed, and she recalls the excitement of visiting the U.S. Capitol building.
"Meeting the other Close Up participants from all over and hearing about their different perspectives and experiences," is also a favorite memory. Overall, the opportunity to watch the federal government in action and see how it "works from a different perspective and to see how the government serves its constituents" is something that Rep. Vruwink believes is a "great educational opportunity" for all students. According to Vruwink, experiential citizenship education opportunities such as Close Up help create strong civic leaders.
"The program gives students the opportunity to ask questions. Young citizens are able to see the government from more of a historical perspective. It shows young students that if they want to change how things are done, then they are the ones that need to get involved. The government requires active participation.
I think that the most important civic activity for young people is to participate at any level of government. Whether it is attending a school board meeting or working on a campaign, active participation is important and valuable.
Close Up provides students with experience for participation. While on program I developed my own legislation and went through the process of negotiating with students from other states to persuade them to join my bills. I drew on those experiences when I became a state legislator, but they are valuable experiences to have for any form of participation in any level of government."