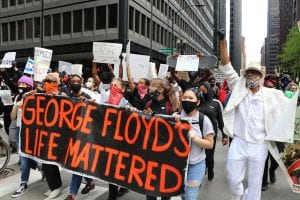 On Monday, May 25, a Minneapolis police officer named Derek Chauvin killed George Floyd by kneeling on his neck for over eight minutes.1 The next day, video of the killing went viral; by the end of the day, large groups had begun protesting in Minneapolis. In the week since, protests have spread to many major cities across the country, and some protests have had destructive consequences.2 It is not always clear who starts the violence and vandalism,3 and there is evidence to suggest that responses from the police are making the violence worse.4 In many ways, the scenes mirror the origins of the Black Lives Matter movement in Ferguson, Missouri, in 2014—another time when police efforts to respond to protests were met with, or perhaps sparked, violence.5
This week, we are offering three blog posts that grapple with the fundamental questions and challenges posed by recent events. On Tuesday, we shared resources and ideas for discussing race and racism with students. Today's post will explore the protests and the government response to them.
Over the weekend, what began as nonviolent demonstrations in many cities around the United States became sites of property destruction, fires, and escalating responses from police.6 In editorials and commentary in newspapers, on television, and on social media, people are discussing serious questions about the protests. To help your students explore a few of them, we share some questions and resources below.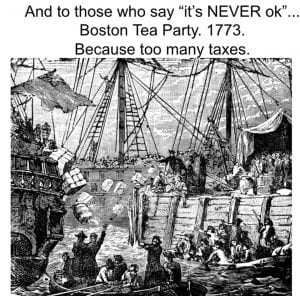 Protests, Social Movements, and Violence
Protest and social change have rarely been as smooth as history textbooks and movies make them seem. In our present context, some argue that the violence near the protests undercuts the power of their message. Others, however, point to a quote from Dr. Martin Luther King, Jr., who said, "I think America must see that riots do not develop out of thin air. Certain conditions continue to exist in our society which must be condemned as vigorously as we condemn riots. But in the final analysis, a riot is the language of the unheard."
Additionally, those who argue that the destruction of property can be justified frequently point to the violent roots of the United States itself, including the Boston Tea Party, and circulate memes like this one.
While the level of violence in the current protests seems to be decreasing,7 it is still important to consider the role of violence in social movements. Here, we share some resources that might help you have those discussions.
Police and Governments Respond to the Unrest
A second major question facing citizens is how local, state, and national government should respond during this time of protest. President Donald Trump has called for a strong police, and even military, response.8 This has led many Americans to debate the best path forward in responding to the violence that surrounds the protests. Here are some resources that may help you explore government responses to protests with your students:
We hope that these resources help you examine these complex, challenging, and vital issues with your students. If you have other resources to share with teachers and students, please submit them in the comments below.