10 Things to Know About the Government Shutdown
January 15, 2019
---
Why did the American government shut down? As summarized by the Committee for a Responsible Federal Budget: "Every year, Congress must pass and the president must sign budget legislation for the next fiscal year (FY), consisting of 12 appropriations bills, one for each appropriations subcommittee. When the federal government's fiscal year began October 1, Congress had enacted five of the 12 appropriations bills for FY 2019. Lawmakers have not yet passed full-year appropriations for the departments and agencies covered by the other seven appropriations bills." The law associated with government shutdowns is the Antideficiency Act, which was enacted in 1870 and extensively amended in 1950 and 1982. The law prevents the use of funds without appropriation, except when the government activity involves "the safety of human life or protection of property" (Source). According to the Congressional Research Service (CRS), there have been 19 government shutdowns in the U.S. since 1977. Previous shutdowns have lasted anywhere from one to 21 days. The current shutdown is 24 days long (and counting), having started on December 21, 2018 (the deadline stated in the continuing resolution), making it the longest government shutdown in U.S. history.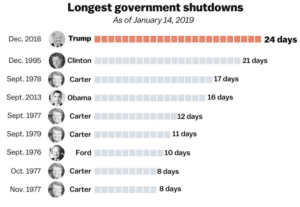 Why is this considered a partial American government shutdown? Only about 25 percent of the federal government remains unfunded. During a shutdown, any agency or department that has not had their funding appropriated by the deadline will run out of funding and must stop all non-essential activity.Source: CRS with data from the Legislative Information System of the U.S. Congress.
Which appropriations bills are being impacted by the 2019 U.S. government shutdown? Agriculture, Commerce-Justice-Science, Financial Services, Homeland Security, Interior-Environment, State-Foreign Operations, and Transportation-Housing and Urban Development. The operations in these sections of the government were being funded until December 21, 2018, through a continuing resolution (CR). A CR is a measure that Congress often passes to avoid a shutdown by extending the current level of funding, giving lawmakers more time to complete appropriations for the new fiscal year.
What's all the fighting about? There is disagreement in the government about one thing in particular: funding for a wall on the U.S.-Mexico border. President Donald Trump is pushing for $5.7 billion in funding for the wall and is being met with extreme resistance in Congress (particularly in the Democrat-held House of Representatives). Democrats have conceded to supporting $1.6 billion for border security (obviously lower than President Trump's request) and would allocate those funds for "general" border security rather than for a wall.
Have any solutions been introduced? Some attempts have been made in Congress, but no bill has succeeded thus far. The House passed a bill (H.R. 264) that included a 1.9 percent civilian pay raise for federal employees, but no funding for the border wall. Senate Majority Leader Mitch McConnell, R-Ky., did not address the bill on the floor of the Senate and blocked it from a vote (Source).Senate Majority Leader McConnell said,  "The Senate will not waste its time considering a Democratic bill which cannot pass this chamber and which the president will not sign." He went on to say that the legislation presented by the House was not brought up for a vote in the Senate because, "It isn't comprehensive. It ignores the needs of border security. It is exactly the kind of proposal you would expect if the incoming House Democrats were choosing to stage a political sideshow rather than doing the hard work of helping to govern the country; in other words, it is a total nonstarter."President Trump has said that he doesn't see the shutdown lasting that long, but he is prepared to let it "go on for months or even a year or longer" (Source). As for the Senate, it technically has the power to override a presidential veto, allowing for the government to reopen if two-thirds of each chamber were to pass the bill.
What about federal employees—are they working? Are they being paid? There are about 380,000 federal workers currently furloughed and an additional 420,000 who are considered "essential." Furloughed employees are required to stay home from work without pay (but will receive back pay once the government re-opens). Essential employees are required to report to work as usual, but they will not be paid (until they receive back pay when the U.S. shutdown ends). There is no guarantee that furloughed employees will receive back pay (Congress must pass a bill that does this), but it has been the practice in previous shutdowns. Luckily for impacted federal workers, Congress passed the Government Employee Fair Treatment Act of 2019 (S. 24) on January 11. The bill will secure back pay for workers impacted by this American government shutdown—it addresses both pay that has already been missed and any future missed pay that comes as a result of the shutdown.
Is this such a bad thing? Doesn't it save taxpayers money when a government shutdown in the U.S. occurs? It is understandable to think that, but it actually costs us money when the government shuts down. Using data from past shutdowns, CRS compiled a report on the potential and likely costs of a government shutdown. The costs associated with the U.S. shutdown were broken down by the Office of Management and Budget (OMB) into five broad categories:
Effects on the economy
Federal employee furloughs
Impacts on programs and services
Other budgetary costs
Impacts on the federal workforce
OMB has said that paying back pay to furloughed employees is historically the largest direct cost of an American government shutdown, as taxpayers will pay furloughed employees for work not performed. OMB estimated that costs of back pay to furloughed employees in the FY 2014 shutdown came to about $2 billion, plus an additional $500 million in benefits.
The CRS report also outlined some of the effects of the two government shutdowns in the U.S. in FY 1996:
The closure of more than 368 parks, museums, and monuments. The closure of these sites meant a loss of seven million visitors who would have been providing tourism revenue for the site itself and for the local community around the site. (In the current 2019 U.S. government shutdown, approximately one-third of national park sites are closed; at others, few if any staff are on hand.)
Visas, passports, and travel. Tens of thousands of visa and passport applications went unprocessed, and various U.S. tourism sectors, such as aviation, reportedly incurred millions of dollars in losses. (In the current shutdown, the State Department is continuing to offer passport services.)
What is the impact of this American government shutdown? Another fact about the government shutdown is that it has had a wide-ranging impact across the government and in various aspects of American life.
Government-sponsored social programs have varying levels of funding left. The Department of Agriculture, for example, announced on January 8 that Supplemental Nutrition Assistance Program (SNAP) benefits will be extended into February and school lunch programs will be given an additional two months of funding to take coverage into March.
Without protection in national parks, trash and debris are piling up and some people are using the lack of supervision to break rules and misuse park resources. For example, people have been found illegally driving off-road in Joshua Tree National Park; some even cut down protected Joshua trees in order to create roads into the forest.
The Department of Housing and Urban Development announced that around 1,150 housing contracts are on the verge of default because the shutdown is preventing people from receiving their federal housing assistance. The agency has written to landlords requesting that they use surplus funds to avoid eviction of tenants as long as they can (or until the shutdown ends). The Federal Housing Administration released a statement requesting that lenders be understanding of federal workers who are going without pay and sent a letter to lenders about the U.S. shutdown.
According to economists at the financial services company S&P Global, a government shutdown is estimated to cost the U.S. economy $1.2 billion a week.
Can I take a flight? Is it safe? While the airports are understaffed, you can still take a flight. According to the Wall Street Journal, Transportation Security Administration (TSA) agents, Customs and Border Protection (CBP) officers, and Federal Aviation Administration (FAA) air traffic controllers are part of the 420,000 essential employees across government agencies who are required to work without pay during the shutdown. On January 11, TSA employees and air traffic controllers missed their first paycheck.
For TSA employees, there has been an increase in unplanned call-outs for things like illness and weather over the last week or so. For the weeks prior to the first missed paycheck, TSA had an absentee rate of about 5 percent; that rate is up to 7.6 percent as of January 14.
Air traffic controllers have gone a step further: on Friday, they filed a lawsuit in federal court. The National Air Traffic Controllers Association alleges that the government "unlawfully deprived" thousands of members of pay "without due process" and are suing the Trump administration.
While airports and the TSA are assuring passengers that staffing shortages have not decreased airport security and will not affect travel, certain groups in the aviation industry do not believe this will last for long. A group of 34 trade groups, associations, and unions that represent various aviation industry employees (like pilots, flight attendants, and mechanics) got together and wrote a letter to President Trump, Speaker of the House Nancy Pelosi, and Senate Majority Leader McConnell. The letter laid out in detail the negative impacts that the shutdown is having on the industry and its employees. "This partial shutdown has already inflicted real damage to our nation's aviation system and the impacts will only worsen over time," they wrote. "We urge you to act quickly to resolve these issues."
Does our military still protect us if the government is shut down? The military is almost completely unaffected by government shutdowns in the US, as the Department of Defense's budget was passed separately in September. However, because the Coast Guard falls under the Department of Homeland Security, that branch has been impacted by furloughs and lack of pay.
Discussion Questions:
Do you think Congress should fund a border wall? Why or why not?
Do you agree with President Trump's decision to keep the government shut down until a border wall is written into the budget? Why or why not?
How, if at all, do you think this government shutdown might impact the way the world views the United States?
How, if at all, might bias impact the way that various news outlets discuss the ongoing shutdown?
How might the shutdown impact the lives of citizens if it continues for many months? At what point, if any, is the cost to citizens too great to justify the shutdown?
More information from CRS can be found here:
Sources:
Featured image: ABC News